Infection of the breast, a condition called mastitis, can occur when microbes enter cracks in the skin and colonize within a milk duct, usually but not always at a time in life when the mother is nursing. Mastitis can be caused by bacteria, viruses, and fungal microbes, and can affect one or both of the breasts. Breast infections cause the breast to get red and inflamed, swollen and tender to the touch. A range of antibiotics are used to treat mastitis that occurs as a result of bacterial infection.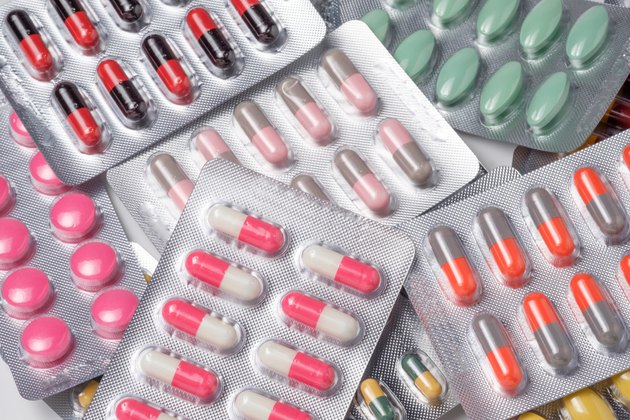 Cephalexin
Cephalexin is a type of drug which is classified as a cephalosporin antibiotic, which is commonly used to treat breast infection. It is considered a broad-spectrum antibiotic, which means it targets a range of bacterial species. It is safe for use during breastfeeding. Cephalexin works by destroying the structure of bacterial cells, killing the bacteria to treat the infection. Bacteria have a hard structure made up of proteins and carbohydrates, which is called the cell wall. The cell wall is constantly assembled as bacteria divide, and it functions to support the cell. Cephalexin inhibits the formation of the cell wall, damaging existing bacteria and preventing bacterial cell division.
According to the University of California San Diego, cephalexin is related to penicillin antibiotics, but it can be used safely in patients with allergies to penicillin. Cephalexin may not be safe for patients with existing kidney, liver or stomach disorders, or patients suffering from diabetes.
Dicloxacillin
Dicloxacillin is a broad-spectrum antibiotic in the penicillin family, which is also commonly used to treat mastitis. It has a similar chemical structure to cephalexin, but it can be safely used to treat patients with allergies to cephalosporin antibiotics. Dicloxacillin is safe for use during breastfeeding. Like cephalexin, dicloxacillin works by preventing the infectious bacteria from assembling their cell wall, preventing cell growth and eventually killing the cells.
Dicloxacillin does not generally cause adverse reactions in patients, but mild side effects may occur in some cases. According to the University of Michigan, the side effects of dicloxacillin may include nausea, gas and indigestion, and skin rashes or allergic reactions.
Erythromycin
Erythromycin is a broad-spectrum antibiotic used to treat mastitis, and it is safe to use when breastfeeding. In high doses, erythromycin has a potent antibacterial effect within the body. Erythromycin works by inhibiting a structure within cells that helps make proteins. In the presence of erythromycin, the bacteria cannot make the proteins they need to survive, so the cells ultimately die and the infection is cured.
Erythromycin is suitable for use in patients who are allergic to penicillin. According to Florida State University, erythromycin can sometimes lead to side effects such as fever, nausea or skin irritation.