Insomnia is a common sleep disorder that affects individuals who have trouble falling asleep or staying asleep. If you suffer from too much sleep, or oversleeping, it can be a confusing condition. The National Sleep Foundation warns against oversleeping, noting that it can put you at risk for increased morbidity and mortality. Sleeping too much can be the sign of another illness, and if you find yourself sleeping for more than nine hours on a regular basis, visit your health-care provider for a general health checkup.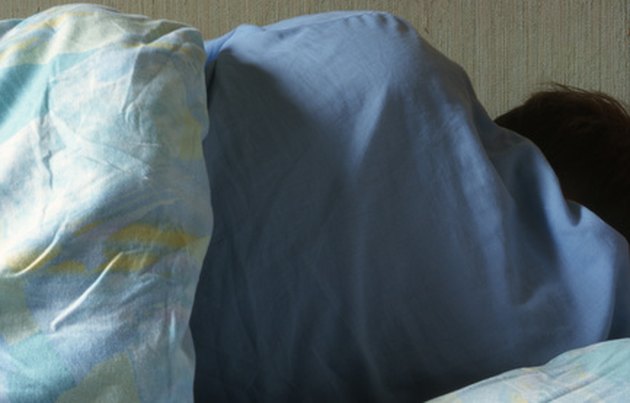 Substance Abuse
The use of certain substances, namely alcohol and prescription drugs, can make you feel more tired and oversleep, says the National Institute on Alcohol Abuse and Alcoholism. If you've received a prescription for a drug that makes you oversleep or feel fatigued throughout the day, talk to your doctor about switching to a medication that makes you feel less drowsy. If you drink, make sure to do so responsibly and not directly before bed. Try alternating one drink with a bottle of water to pace yourself.
Stress and Depression
Depression is a leading cause of oversleeping because it robs you of your will to get out of bed in the morning. You may feel fatigued and have a hard time waking up. The Mayo Clinic attributes the oversleeping to atypical depression, a disorder that causes you to gain weight, sleep more and feel strange in your own body. Stress can have a similar, short-term effect on your sleeping habits. Because of the daily stress you face, you are overly tired at the end of the day and tend to sleep more.
Fatigue
Fatigue can be the result of a variety of factors, such as working too hard, sleep disorders, pregnancy or not getting the optimum amount of sleep each night. The National Sleep Foundation recommends adults get at least seven to nine hours of sleep at night to function properly throughout the day. Not getting enough sleep or being disturbed through the sleep process can leave you feeling tired. When you get the chance, you might oversleep past nine hours as your body tries to recoup from the fatigue.
Sleep Apnea
Sleep apnea is a breathing disorder that affects as many as 18 million Americans, according to the American Association for Respiratory Care. Sleep apnea occurs when you stop breathing periodically throughout the night, resulting in the disruption of the sleep cycle. Through this disruption, those with sleep apnea struggle to get a good night's sleep, which can lead to oversleeping into the next morning to make up for the ruined sleep cycle. Your doctor can suggest treatments to help with sleep apnea for a better night's sleep.
Is This an Emergency?
If you are experiencing serious medical symptoms, seek emergency treatment immediately.