A sore throat and a cough are symptoms that occur in a number of illnesses, including the common cold and the flu. When applicable, medications may be used to treat the illness, such as antibiotics for a bacterial infection. While the antibiotics will help cure the infection, the symptoms of illness can persist for a few more days. Specific remedies for these discomforts will provide relief until the illness has cleared.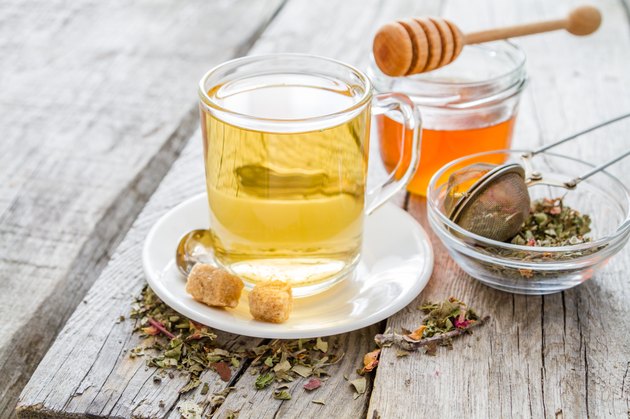 Gargling
Gargling with warm water and salt really can provide temporary relief of throat pain, states the University of Maryland Medical Center. An effective mixture consists of about 1/2 tsp. of salt in a glass of warm water used several times throughout the day. This remedy may have minimal effect on a cough unless it is dry, hacking or caused by itching in the throat.
Humidify the Air
Cool, moist air can be more soothing to the throat. Running a cool-mist humidifier can increase moisture in the air to alleviate irritation that is often exacerbated by breathing hot, dry air.
Lozenges
Medicated or unmedicated, natural throat lozenges can lubricate the throat. Increasing saliva production can reduce throat dryness. Some medicated lozenges can also reduce coughing that is caused by throat itching. Mentholated lozenges can open up the sinuses, reducing congestion and mucus drainage that causes coughing.
Liquids
Drinking plenty of fluids can thin mucus drainage, making it easier to cough up. Warm liquids can be especially helpful. Common recommendations include herbal teas and broth-based soups. Sometimes cool liquids feel better than warm. Citrus or overly spicy drinks or soups can increase throat discomfort. Milk may increase phlegm and coughing.
Honey
Honey is a traditional remedy for a sore throat and cough, according to the University of Maryland Medical Center. Honey can coat a sore throat and actually suppress a cough better than some over-the-counter cough suppressant medications. Another method of reaping the benefits of honey is to mix it with lemon and warm tea. MayoClinic.com warns against giving honey to children younger than 12 months of age due to the risk of infant botulism, a rare but serious type of food poisoning.
Echinacea
Echinacea is an herb that can be taken in 300mg capsules three times per day, suggests the University of Maryland Medical Center. The center points out that some evidence does support that this herb can reduce the duration of a cold by about a day and a half. Individuals should consult a medical professional before using herbal remedies. Echinacea is not recommended for pregnant women, breast-feeding women or young children.
Eucalyptus
Eucalyptus can be used in a variety of products to alleviate a cough by reducing congestion or by soothing a sore throat. Different options include cough syrups, throat lozenges and oils made from eucalyptus. Steeping fresh leaves to make tea for gargling can calm an irritated throat. Many over-the-counter chest rubs contain eucalyptus. Oil drops can be placed into a steamy shower or used in a warm-mist humidifier to open congested airways.
Is This an Emergency?
If you are experiencing serious medical symptoms, seek emergency treatment immediately.