You've just boarded your flight and settled in your seat, when you hear it beginning: the chorus of sneezes and coughs that prompt you to pull up your scarf a little higher, wipe down your surrounding area with sanitizer and shut off the overhead vent's freezing stream of air.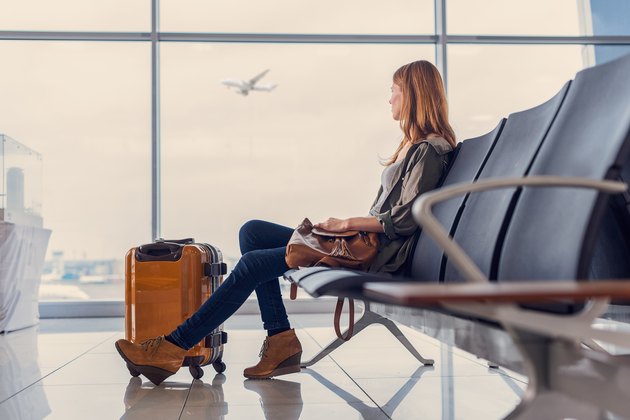 We have a feeling you'll always have the air vent on full blast after reading this: According to a Travel + Leisure interview with Dr. Mark Gendreau — the medical director and vice chair of emergency medicine at Lahey Medical Center-Peabody and an expert on the spread of infectious diseases from air travel — air vents could actually be a key factor in protecting yourself from viruses and illness on board.
"For airborne viruses, it is incredibly important to ventilate, since ventilation becomes your main means of control besides isolating the affected person," says Gendreau.
What happens is this: The flow of air from the vent creates a type of barrier around you that causes turbulence (the only time it's a positive thing on a flight, right?), preventing viral particles from entering your space and forcing them to drop to the ground, Gendreau explains. So leaving that air vent on is a good habit to get into, regardless of what other measures you take to stay well on a flight.
For example, no matter how diligent you are about quarantining yourself from others' germs, the low humidity on a plane already isn't in your favor. Low humidity causes the mucous membranes to dry out, making you more susceptible to contracting a virus, he says.
Furthermore, the air you're breathing isn't limited to just your row. Rather, you're likely trading air with everyone from two to five rows surrounding your seat. And when you hear a sneeze from several rows back, don't assume you're in the clear— those nasty little droplets can travel up to six feet. Yikes!
While common cold viruses and upper respiratory tract infections are transmitted through larger, heavier droplets (causing them to fall to the ground quickly), other airborne viruses like tuberculosis and measles are more concerning. These viruses are transmitted via tiny droplets and can linger in the air for up to five hours, Gendreau says.
That said, having an air vent flowing at medium or even on low still creates a shield around the passenger, blocking these tiny particles and pushing them to the ground faster than they would otherwise.
What Do YOU Think?
Will you think twice before reaching to turn off your air vent on the next flight you take? What other things do you do to ensure you stay well during and following a flight? Tell us in the comments!