Despite deep and persistent criticism about the lack of diversity on its runways, New York Fashion Week hasn't fully adapted to consumers' appeal for inclusivity. But this season's Chromat runway propelled things in the right direction.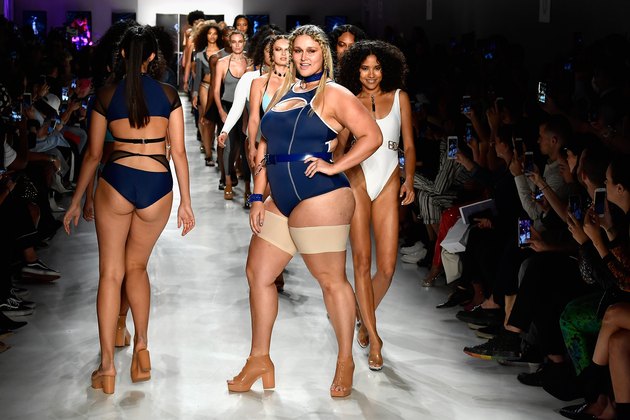 The brand, known for its architectural styles and "strong, powerful women" messaging, made a statement by including one small but mighty detail into its Spring 2018 show: Bandelettes' anti-chafing thigh bands. Resembling the elasticized portion of a thigh-high stocking, these bands are designed to reduce friction when wearing garments where one's bare skin rubs together. Show attendees also received thigh bands in their goodie bags.
The empowering decision is shutting the door on a trend that has long been an unrealistic measure of women's physical attractiveness — the "thigh gap," a space that forms between some people's thighs when they stand up straight with their feet together. Chromat's choice of models made just as much of a statement as the band itself — Hunter McGrady and Shannon Gartman have vastly different physiques, proving that thigh rubbing is not specific to any one body type.
Continuing its mission of inclusivity, the Chromat runway featured a diverse cast, including full-figure models like Jordyn Woods, Denise Bidot and Sabina Karlsson and transgender model and activist Leyna Bloom, who opened the show wearing a generous underboob crop top accessorized with a statement harness.
While other designers have also migrated toward a more positive outlook on beauty — such as Michael Kors sending his models on the runway sans makeup — the future evolution of runway fashion remains to be seen. There are plenty of talented models of all shapes, colors and gender identities out there, and hopefully fashion brands will take a moment to listen to women's yearnings to be accurately represented.
Mass retailers are already starting to listen to these yearnings. Read about Kmart's recent commitment to rebranding its plus-size section here.
What Do YOU Think?
Is the fashion industry doing enough to be inclusive toward all women? What are some designers and retailers that are changing the game? What types of looks and models would you like to see more of on the runway? Let us know in the comments section.