Millions of Americans contract the flu each year. In most cases, according to Dr. Raphael Dolin in "Harrison's Principles of Internal Medicine," acute illness resolves within two to five days, although respiratory symptoms, such as cough and sore throat, may persist for up to two weeks. Some symptoms of flu may last longer and some groups are more likely than others to experience prolonged flu symptoms.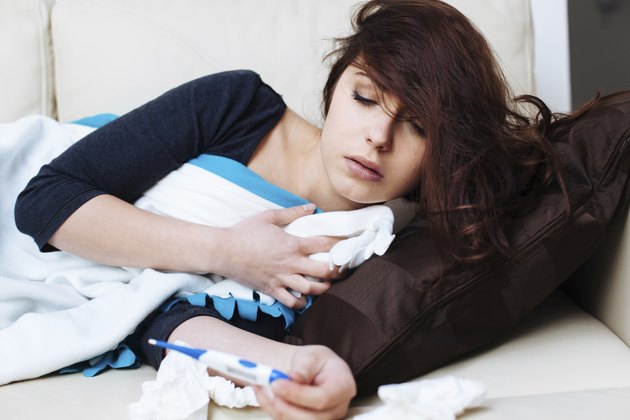 Fever
According to Dr. Dolin, fever due to flu usually peaks within 24 hours, followed by gradual reductions over two to three days. Fever that lasts longer than seven days and fever accompanied by delirium or seizures should be evaluated by a physician.
Respiratory Symptoms
A 2009 study in the "Journal of Clinical Microbiology and Infections" found that cough was the single most persistent symptom of flu; other respiratory symptoms of flu, such as sore throat, runny nose and nasal congestion, tended to start later and end sooner than cough. Patients with respiratory symptoms that last longer than two weeks, interfere with breathing and/or produce more than trace amounts of bloody, green or yellow sputum should be evaluated by a physician for complications of flu.
Muscle Pain and Weakness
Muscle pain and weakness was the second most persistent symptoms of flu in the "Journal of Clinical Microbiology and Infections" study. The elderly and people who are severely ill may require several weeks before they are able to return to previous activity levels. People who experience severe pain, pain in areas other than the lower back and legs, and those who are unable to perform activities of daily living, such as walking to the bathroom, should be evaluated by a physician.
Flu-Related Complications
Flu sometimes sets the stage for complications such as pneumonia, ear infections, inflammation of the brain, and other problems that significantly prolong recovery. Complications commonly present as sudden deterioration and/or new symptoms in a person who was previously improving. Although anyone can experience complications of flu, the Centers for Disease Control and Prevention reports that they occur most often in children under 5, the elderly, pregnant women and people with other medical problems.
Exacerbation of Chronic Disease
Flu frequently makes medical problems such as lung, heart, and kidney disease worse, according to Dr. Dolin. People with medical problems often require medication adjustment and may even require new therapies, such supplemental oxygen or even mechanical ventilation. These people should expect long recoveries and, in some cases, a return to previous baseline may not be possible.