The annual Victoria's Secret Fashion Show is one of the most hyped lingerie events of the year. (Where else can you find the world's highest-paid supermodels strutting down the catwalk wearing next to nothing?)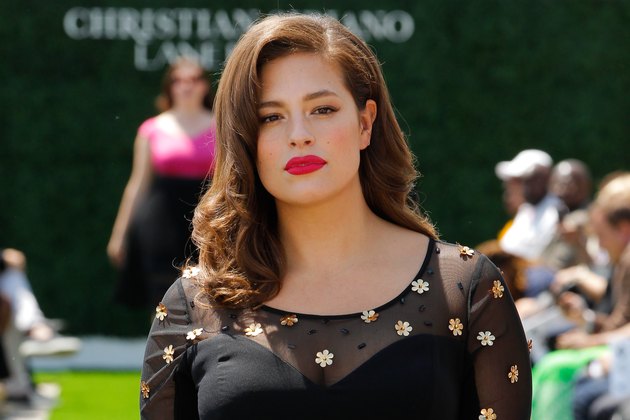 This year one of the world's top models, Ashley Graham, noticed something was majorly missing from the runway — body diversity — and she wasn't happy about it. So being the body positivity role model she is, Graham called VS out on social media.
Graham, who has expressed interest in modeling for Victoria's Secret in the past, shared a snarky post on Instagram the day of the big runway show in Shanghai. She photoshopped angel wings on a curvaceously gorgeous photo from the 2016 Addition Elle runway show, transforming herself into one of Victoria's Secret trademark Angels. "Got my wings my #AdditionElle wings!" she captioned the snap, along with the body-positivity hashtag #thickthighssavelives.
One has to wonder: Why wasn't Graham cast in the show? After all, she was the first size 16 model to appear in the Sports Illustrated Swimsuit Edition back in 2015, scoring a cover the following year. "I thought Sports Illustrated was taking a risk by putting a girl my size in the pages," Graham told People at the time. "But putting me on the cover? They aren't just breaking barriers; they are the standard now. This is beyond epic."
She has also been featured on the covers of several other magazines, including Vogue UK, Cosmopolitan, SELF, Maxim and Glamour, amassed more than 5.6 million followers on Instagram and snagged several high-profile fashion campaigns with Lane Bryant, HM Studio and Dressbarn.
And get this: Forbes just announced that she is one of the highest-paid models in the world. She is the first curvy model to break into its annual Highest Paid Models of the Year list, raking in a whopping $5.5 million over the last 12 months.
Graham is a perfect representative of the body positive movement that is changing the fashion industry. For example, Kmart recently did its part to remove the "plus size" stigma, replacing it with the catchy term "Fabulously Sized" in its "I Can" campaign. Fashion-industry powerhouses like Vogue, LVMH and even Paris Fashion Week have banned the use of superskinny models.
And then there were those anti-chafing thigh bands modeled by realistic-looking beauties featured on the runway of New York Fashion Week this year.
"We are here to stay. And you can tell by how many designers are putting us on the runway, how many covers we're on and the fact that in the last three years I've never seen more progression in the curve world than ever before, and I've been doing this for 18 years. We're not a trend," Graham told People earlier this month.
No matter what size clothes hang in your closet, you have to admit Ashley has a valid point, and kudos to her that she had the guts to speak up about it. Let's hope next year Victoria's Secret will incorporate some body diversity into their supermodel lineup. And maybe, just maybe, it will include her.
What Do YOU Think?
Do you think Ashley Graham was right for calling out Victoria's Secret? Should the company feature more diverse models in its campaigns and fashion shows? Will the modeling industry be more inclusive in the future?