Sometimes the hardest problems to fight are the ones that happen in the daylight, the ones that are so normalized that many people fail to see them as problems in the first place. This year the #MeToo campaign gave anyone with access to social media a place to share their stories of sexual harassment and assault — stories that were previously either too taboo or uncomfortable to talk about openly.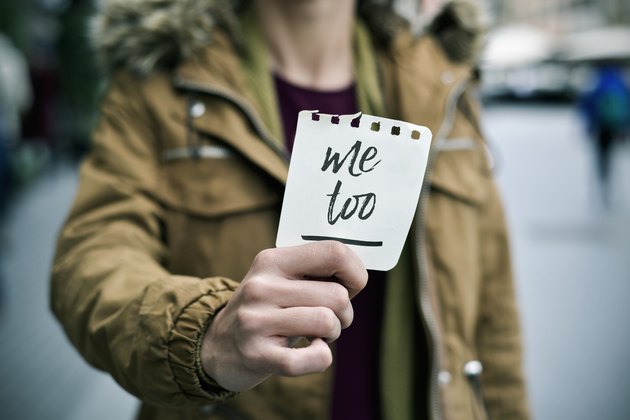 Time's cover names the voices who launched the movement "The Silence Breakers." The story profiles women and men who have spoken out about their experiences, including the activist who started the movement back in 2006, Tarana Burke.
Burke's hashtag went viral this year in the wake of high-profile sexual harassment and rape accusations against former film executive Harvey Weinstein. Actress Alyssa Milano popularized the campaign when she used #MeToo, and thousands of people began opening up about the damage done by both sexual harassment and society's overwhelming desire to keep those stories a secret.
Written, produced and styled by women, Time's story features not only the women and men who work in film and TV, but also those in other, less visible industries: professors, housekeepers, office assistants and journalists, to name a few.
But this monumental act of shedding light on what goes willfully unnoticed every day didn't happen overnight. Survivors have been fighting for this for centuries.
"Women have had it with bosses and co-workers who not only cross boundaries, but don't even seem to know that boundaries exist," Time's Stephanie Zacharek, Eliana Dockterman and Haley Sweetland Edwards write. "They've had it with the fear of retaliation, of being blackballed, of being fired from a job they can't afford to lose."
Perhaps the most chilling thing about the #MeToo movement is that what is finally in plain view has haunted thousands of silenced people for decades. And Time's choice to honor the voices behind the movement, rather than a single individual, demonstrates what we've come to know all too well: The issue is, and the solution will need to be, bigger than any one person.
Other candidates for the distinction included: The Dreamers, Amazon founder Jeff Bezos, "Wonder Woman" director Patty Jenkins, North Korean leader Kim Jong Un, protest leader Colin Kaepernick, special counsel Robert Mueller, Chinese President Xi Jinping, Crown Prince Mohammed bin Salman of Saudi Arabia and U.S. President Donald Trump.
Other groups that have won Time's Person of the Year since it started back in 1927 include "American Women" (1975), "Hungarian Freedom Fighters" (1956) and "The Ebola Fighters" (2014).
In 90 years since Time started naming a Person of the Year, just four individual women (meaning not as a part of a group) have been awarded the title — something that will hopefully change moving forward.
What Do YOU Think?
How did the #MeToo movement impact your year? Will you be reading Time's story? Share your thoughts in the comments below!