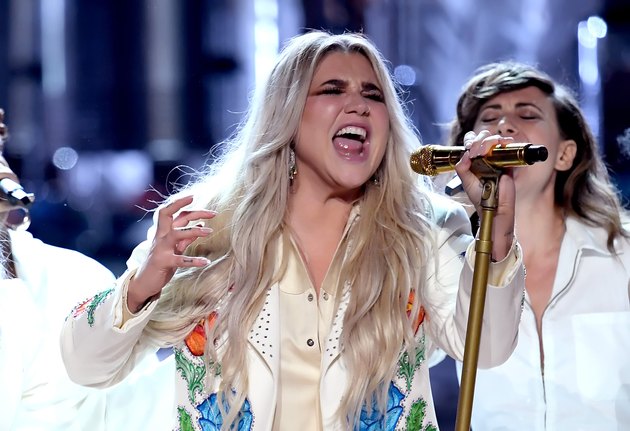 The rose initiative was started by Voices of Entertainment, a group of female major-label employees standing in solidarity with the anti-sexual harassment movements that have sprung up in the post-Harvey Weinstein era. The white rose is a symbol of "hope, peace, sympathy and resistance."
Clad all in white and claiming the stage alongside fellow badass artists Camila Cabello, Cyndi Lauper, Julia Michaels, Bebe Rexha and Andra Day, the songstress was a ball of emotions as she sang the tune's heavy-hitting lyrics, seemingly directly to her alleged abuser. Members of the Resistance Revival Chorus joined in on backup vocals.
The song, which features lyrics like "'Cause you brought the flames and you put me through hell/I had to learn how to fight for myself," was written following a lengthy and highly publicized legal battle between the songstress and her former producer Lukasz "Dr. Luke" Gottwald. In 2014, Kesha accused Gottwald of sexual assault and battery, among other charges, and photos of her crying in the courtroom after she was denied a request to release music outside of her contractual obligations with him famously made the rounds online.
"When I wrote 'Praying' with Ben Abraham and Ryan Lewis, I just felt as if I had gotten a huge weight off my shoulders," Kesha tweeted a day before her performance. "It felt like an emotional raw victory for myself, one step closer to healing." Beyond healing, the track also scored Kesha a Best Pop Solo Performance nomination — but was beat out by Ed Sheeran's "Shape of You" to the auditorium's boos.
Arguably the most powerful #MeToo moment from the awards, Kesha's performance was not the only one. In introducing the performance, singer and actress Janelle Monae gave a succinct, hard-hitting statement about the Time's Up movement — Hollywood's call against workplace sexual harassment and response to #MeToo.
"Tonight, I am proud to stand in solidarity as not just an artist, but a young woman with my fellow sisters in this room who make up the music industry," she said. "Artists, writers, assistants, publicists, CEOs, producers, engineers and women from all sectors of the business. We are also daughters, wives, mothers, sisters and human beings. We come in peace, but we mean business."
Rapper Logic also used part of his time on stage to address the movement and send his support and encouragement to all women. "Women are as precious as they are stronger than any man I've ever met," the man behind hit songs and National Suicide Prevention Lifeline phone number 1-800-273-8255, said.
The conversations around #MeToo and Time's Up are showing no signs of stopping, and strong survivors like Kesha are taking it upon themselves to bring awareness by being vulnerable on stage. To her and the other fearless voices that will undoubtedly come forth throughout the remains of the awards season, we say: Rock on!
What Do YOU Think?
Did you enjoy Kesha's performance? What were your favorite moments from this year's show? Do you believe award shows like the Grammy's should be a place to get political in their messages? Let us know in the comments section.