If you're like most Oscar viewers, you were probably cheering all the way through Frances McDormand's empowering acceptance speech last night at the Academy Awards (ICYMI: She won the Oscar for Best Actress in a Leading Role for "Three Billboards Outside Ebbing, Missouri").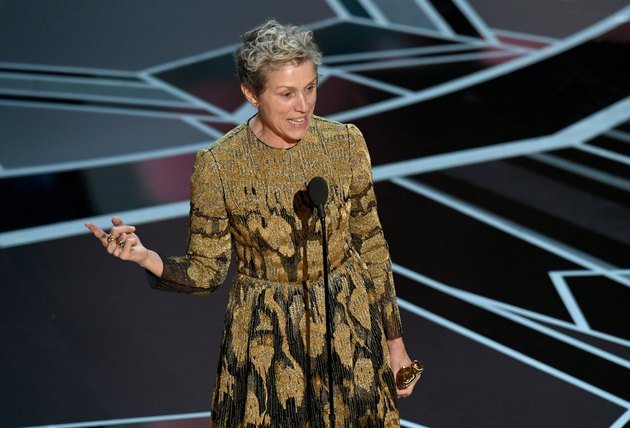 But then she gave us a takeaway that would trip up even Hollywood's most seasoned players: "I have two words to leave you with tonight, ladies and gentlemen: inclusion rider."
A what? Heck, the 60-year-old actress didn't even know what an inclusion rider was until recently. "I just found out about this last week," she told the Hollywood Reporter backstage.
But she explains it like an expert: "This has always been available to all — everybody who does a negotiation on a film — which means you can ask for or demand at least 50 percent diversity in not only the casting but the crew. The fact that I just learned that after 35 years in the film business — we aren't going back."
In other words, an inclusion rider would set various benchmarks for diversity, Stacy Smith, Ph.D., the founder and director of the Annenberg Inclusion Initiative at the University of Southern California, told the New York Times. For example, one might require that the staff and cast be "50 percent female, 40 percent underrepresented ethnic groups, 20 percent people with disabilities and 5 percent LGBT people," the New York Times reports.
Inclusion riders would help to ensure that "bias is corralled in the interviewing and hiring process," Dr. Smith says, so that "the world on screen looks like the world in which we live." And if either the studio of distribution company fails to comply with the rider, it could face a fee or penalty.
McDormand acknowledges that pushes for diversity have been treated like fads in the past, the New York Times reports. "The whole idea of women trending? No. African-Americans trending? No. It changes now." By encouraging actors to incorporate inclusion riders in their contracts, McDormand is giving those in power a tangible way to make lasting change.
The "Fargo" actor's mention of inclusion riders followed an instantly iconic speech in which she asked all of the female nominees in the audience to stand. She then implored those women to discuss their ideas for projects, not just at the boozy after-parties, but also during meetings once awards season is over.
Over the past few months the #MeToo social media movement and Time's Up initiative have emboldened some of Hollywood's biggest names to advocate against sexual harassment and for inclusion, diversity and equality. Last night saw a continuation of that discussion.
A few other highlights include when Emma Stone announced those up for best director: She called out the lack of women nominees, saying, "These four men and Greta Gerwig." And "Coco" songwriters Kristen Anderson-Lopez and Robert Lopez took a moment during their acceptance speech to address that their category had almost equal representation between men and women. "When you look at a category like ours, it helps to imagine a world where all the categories look like this one," Anderson-Lopez said.
And when women's empowerment wasn't stealing the spotlight, it was owning it. Ashley Judd, Salma Hayek and Annabella Sciorra, three of the women who have accused Harvey Weinstein of sexual assault, took to the stage together to introduce a segment highlighting the diversity in filmmaking over the past year. Judd said she hoped that over the next 90 years the Academy Awards will "empower these limitless possibilities of equality, diversity inclusivity, intersectionality — that's what this year has promised us."
McDormand and many of last night's other honorees prove that glitz and glam and social activism aren't mutually exclusive. And as we reach the end of awards season, messages about diversity and equality have come to feel like an essential component of these ceremonies. We look forward to seeing the momentum last.
What Do YOU Think?
Had you ever heard of an inclusion rider before McDormand's speech? What was your favorite moment from last night's ceremony? Share your thoughts in the comments section!