After her electrifying WrestleMania 34 win on Sunday night, Ronda Rousey admits she is now grateful for the career-ending back-to-back UFC losses that led her to the WWE.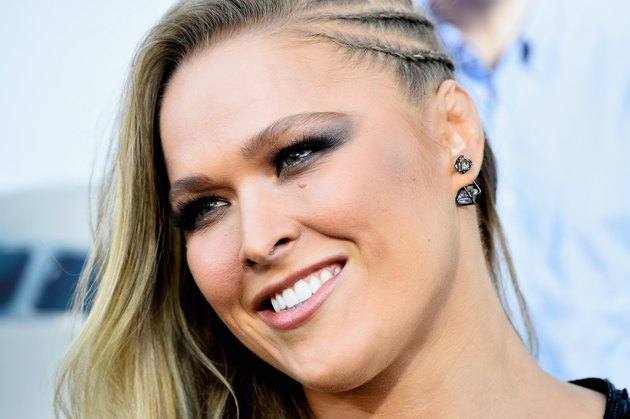 Paired with WWE legend Kurt Angle, the 31-year-old faced off in the ring against husband-and-wife team Stephanie McMahon and Triple H, kicking some major — and we mean major — butt. But winning isn't everything, something Rousey has learned the hard way. In an incredibly positive interview conducted after the fight, the athlete admits that losing in the past was actually the best thing that ever happened to her.
"It was me versus the world in an individual sport. I thought I would never say this, but I'm so happy I lost those fights [to Holly Holm and Amanda Nunes] because it led me here. This is so worth it," Rousey told ESPN. "Everything really does happen for a reason. I'm just so grateful. I thought I never would be [grateful] for [the losses], but time is a great teacher. I'm just really, really glad I gave it time instead of giving up and feeling it was the end of the world."
Rousey, who was undefeated in the UFC until losing to Holly Holm in November 2015, and then to Amanda Nunes in December 2016, continued her inspiring interview, talking about people who encounter hardships and feel like the world and time won't heal it. "Just give it time, even if you think time can't heal it. You never know what will happen and where it will lead you. Every missed opportunity is a blessing in disguise. I really believe it now," she said.
The star athlete also gushed over the warm reception she has received since her transition into the other ring. "I underestimated how kind the WWE universe would be. I thought any outsiders would be shunned," she revealed. "I was expecting to get shunned and to have to battle to be accepted. I worked my ass off to pay respect to what's so important to them, and hopefully they saw that tonight. I'm just so grateful, man. I'm trying my best to deserve it."
Ronda, you totally do deserve this epic win, and we can't wait to see what you are going to do — and say — next!
What Do YOU Think?
Are you inspired by Ronda Rousey's attitude? Do you believe in fate? Have you ever been grateful you didn't get something you wanted because what you ended up getting was so much better? Tell us about it in the comments!