When you think of a quick, easy, healthy lunch or dinner, a burrito might not be the first thing that comes to mind. A burrito with steak, rice and beans, salsa, sour cream, cheese and lettuce can easily exceed 1,000 calories. Smother it with cheese and sauce and you have a calorie bomb with more than a day's worth of calories, sodium and fat in one meal.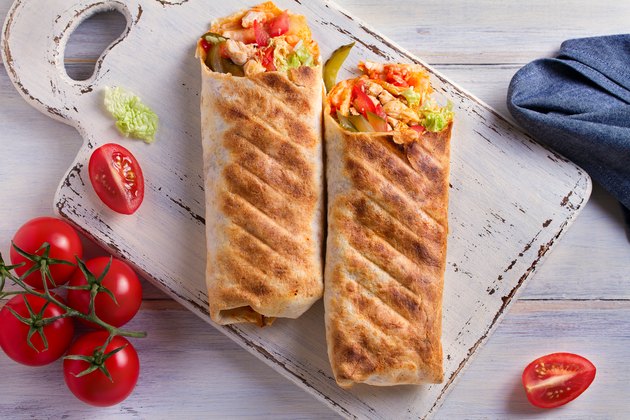 That said, a burrito is essentially a wrap, and if you make the right choices you can decrease the calories to 500 or less while maximizing fiber, vitamins, minerals, antioxidants and flavor. Construct the ideal, healthy burrito by making simple swaps that really add up.
Tortillas can be surprisingly high in carbohydrates and calories. When making your own, aim for a whole-wheat or corn tortilla instead of a white-flour version, or try a low-carb choice to increase nutritional value and decrease overall caloric intake.
1. Pick a Healthier Base
Because of the amount of carbohydrates that a tortilla provides, you may find yourself satisfied without another grain like rice. If you do want to add a whole grain, choose a small quarter-cup portion of brown rice or quinoa.
2. Choose Your Protein Wisely
Portion size matters: Aim for one to two ounces of protein for flavor and balance instead of the typical three to four ounces. This also leaves more room for fresh vegetables and other condiments. Make meat your side instead of the main feature and you'll eliminate fat grams easily.
Meat doesn't have fiber, so try a vegetable base instead to maximize nutritional content. Black beans, pinto beans or chickpeas are all great burrito additions; they're full of fiber, vitamins, minerals and antioxidants that can keep you full for hours.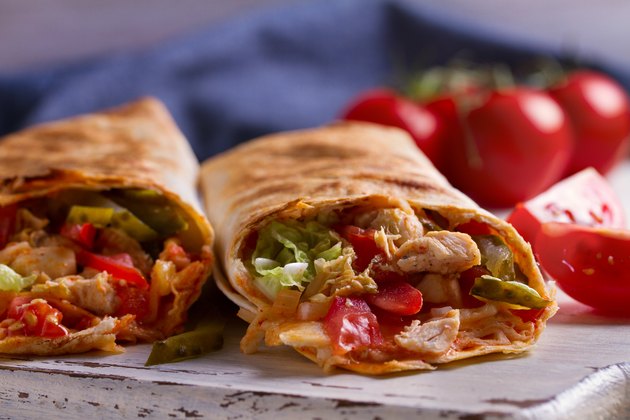 3. Add Vegetables
Fajita vegetables like onions and peppers pack flavor -- plus vitamins and fiber. Add your favorite fresh green lettuce, cabbage, kale or spinach for crunch. Roasted or fresh corn kernels give a savory texture, while chopped winter squash or zucchini lends a chewy, bright flavor. Add fresh tomatoes, especially if you prefer a milder taste than a hot salsa.
4. Add a Healthy Fat
Ditch the cheese and sour cream for slices of avocado or olives to increase fiber and antioxidant value. A little goes a long way with healthy fat, so stick with a small portion instead of packing the burrito full of these foods. Fat makes you feel fuller for longer, so be sure to include one of these options at each meal -- you might be surprised how much you enjoy plant-based fats.
5. Pack It With Flavor
Herbs and spices like red pepper, jalapeno, hot sauce, cumin, garlic and black pepper increase the bold flavor you expect from a traditional burrito, but they offer few if any calories. Tomato salsa is packed with nutrition, so pick your favorite -- from mild to hot -- for the satisfying, zesty taste you love. Squeeze fresh lime juice for a bright flavor, or add a sprinkle of cilantro or parsley for added taste and nutrition.
Packed full of vitamins, minerals, antioxidants and fiber, a burrito can be healthy -- as long as you use the right ingredients.