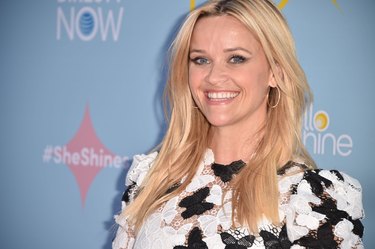 Reese Witherspoon certainly has a twinkle in her eye, and now we know why! The 'Big Little Lies' star can pull off sexy, sweet and sultry on the big screen — and her expressive blue eyes have a lot to do with it. But it turns out it's not just the magic of an amazing mascara that's behind that sparkle; there's actually a breathing technique to thank for her gorgeous glint.
Reese's yoga instructor Nadia Narain has detailed the exact four-minute breathing routine she encourages her clients — who also include Kate Moss and Rachel Weisz — to do to release toxins in the body and bring that sparkle to their eyes.
Using Breath to Calm the Body
The great thing about Narain's routine is that you don't need anything other than yourself and a few minutes of quiet time to start reaping the rewards of her breathing exercise.
"It's called 'Kapalabhati,' which translates to 'illuminating' or 'shining skull,'" Narain says. "So when it's done, the body releases tension, and there's said to be a shining of the skull — including your eyes. It helps to flush out the lungs and bring vibrancy, shine and radiancy to your face. It's calming, uplifting and improves circulation," she says.
If you're ready, grab a mat and prepare to take a big step toward a bit of that radiance.
How to Do Narain's Breathing Trick
In a video shot for Lumity, Narain performs the breathing trick. She sits cross-legged on the ground and breathes through her nose with her mouth shut, using short, sharp breathes she describes as like "blowing a candle out through your nose."
For much of the routine, she has her hand placed gently on her stomach, and you can see her tummy moving with every breath. "When you pump the naval in this way, you create an internal heat, which will release toxins and tension," she says. "It also helps with blood circulation and stimulation of the digestive tract, which will also help increase the function of the intestine and therefore help with elimination of the toxins."
Sound intriguing? You'll want to make it a part of your regular routine to see the best results. "Don't expect to see instantly sparklier eyes," says Narain, who insists, "Everything takes practice."
But even after doing the routine once, you will begin to feel calmer and more relaxed. "It will help to clear the mind and release tension around the face and eyes when done correctly," Narain says. "When our mind is calm, our face softens and our eyes sparkle too. I would recommend doing two rounds in the morning," she says, calling it a "good addition to any yoga practice" that works best when done earlier in the day.
There's just one warning: "It should not be done when pregnant or menstruating, or if you have high blood pressure," she says.
Health From the Inside Out
Reese is a huge fan of Narain's, calling her an "amazing" yoga teacher. "I love practicing yoga with her because it incorporates mind, body and spirit for a completely yoga experience."
It's not only Narain's yoga and breathing techniques which have won Reese over. The actress highly recommends a book written by Narain and her sister, Katia Narain Phillips, called Self-Care for the Real World. "[It's] a manual for everyone about real health from the inside out," according to Reese, who joined a whole host of celebrities and fans in singing the book's praises.
For now, we're thinking we need to get some breathing practice in ASAP!