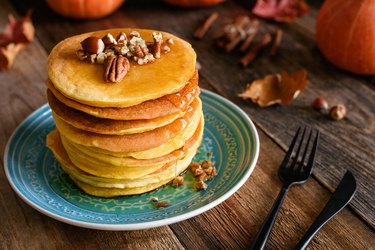 If you're on the keto diet, you probably think the closest you'll come to pumpkin pie this fall is carving a jack-o'-lantern. Surely the starchy squash is a total carb-buster, right? Wrong!
The good-for-you gourds contain only 6 net carbs per 100 grams and can be enjoyed in moderation as part of a ketogenic eating plan. And while the classic pumpkin pie may not be on the table, there are plenty of other ways to indulge.
From sweet to savory, these seven keto-friendly pumpkin recipes are the perfect way to celebrate the season without loading up on carbs.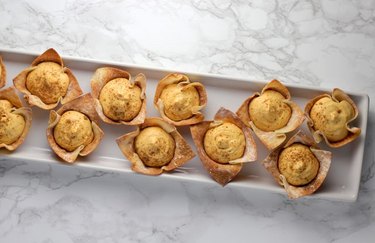 This fluffy mousse is made of pumpkin pie spice and everything nice. The combo of cream cheese and heavy cream mean that these keto-friendly fat bombs quite literally melt in your mouth. Betcha can't have just one!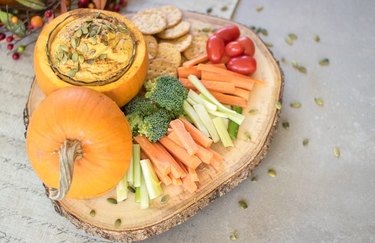 This twist on hummus has triple the pumpkin — canned, seeds and spice — for three times the yumminess. Between the fiber-rich pumpkin flesh and omega-3-packed pepitas, this is the perfect midday snack to stave off hunger until dinner. Enjoy this delicious dip with low-carb, keto-friendly veggies like bell peppers and cauliflower.
3. Easy, Healthy Vegan Pumpkin Spice Latte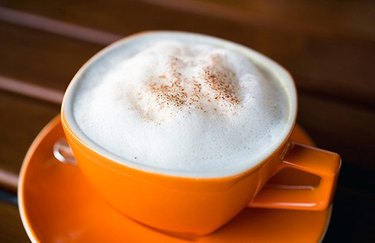 Nothing screams ​fall​ like a pumpkin spice latte. Satisfy your PSL craving with this simple homemade version that contains one-third the calories and half the carbs of a grande Starbucks pumpkin spice latte. Compared to the Starbucks version, which has 50 grams of sugar, this keto-friendly drink relies on a drop of maple syrup for a touch of sweetness. Buh bye, sugar crash.
4. Pumpkin Pie Freezer Fudge
Healthy fats from coconut oil and almond butter form the base of this fudge that's guaranteed to wow your taste buds. And at 6 grams of carbs per serving, a few bites won't kick you out of ketosis. For reference, an ounce of regular pumpkin fudge contains almost quadruple the carbs.
The best part? No baking required. Just blend the ingredients, transfer to a loaf pan and freeze until firm.
5. Pumpkin Spice Protein Pancakes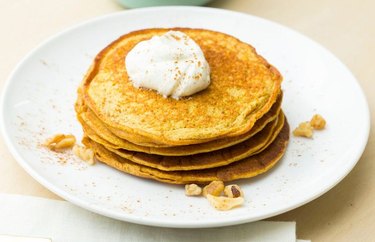 Fall is for flapjacks! Kick off a crisp autumn morning with these keto-friendly pumpkin pancakes. Healthy fats from coconut milk, ghee, pecans and eggs will keep your belly full while chickpea flour and Greek yogurt supply a heaping of muscle-building protein.
6. Crust-Less Paleo Pumpkin Pie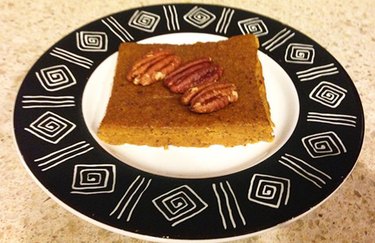 This dessert is the best part of pumpkin pie minus the high-carb crust. The pie filling stays velvety and moist thanks to coconut oil and nut or seed butter. At 22 carbs per serving, it's a bit of a splurge for keto followers, but it contains half the carbs of your average pumpkin pie, which will cost you a whopping 46 grams of carbs per slice.
7. Creamy Vegan Pumpkin Soup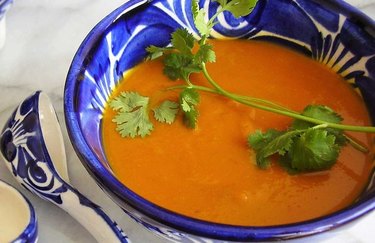 Creamy pumpkin soup is the perfect comfort food for a crisp fall night. This savory soup gets its spicy flavor from red curry paste and its creaminess from coconut milk. For an extra creamy texture, make this soup the night before you wish to serve it, so it has time to thicken.