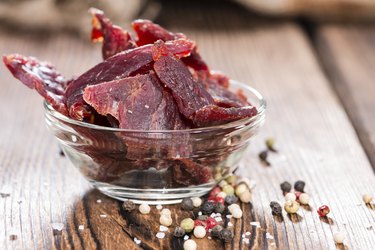 When it comes to protein-packed snacks, people love beef jerky. It's meaty, flavorful and satiating. But oftentimes, it can come with a hefty side of sugar and preservatives.
However, there's good news for all the carnivorous devotees out there: A new snack that's similar to jerky — but ‌way‌ better — has been booming in popularity.
Enter: Biltong. Think of it as jerky's zero-sugar, higher-in-protein cousin. Basically, it's the meat-forward nibble we can get on board with.
What Is the Difference Between Beef Jerky and Biltong?
If you've been lucky enough to make the journey to South Africa, chances are high you've heard of biltong. As a country-wide tradition and specialty, you can find it at nearly every grocery store, gas station and roadside market. It's a common snack to take while on safari in Kruger National Park, while on a boat ride through the Cape Town harbor, or really for any occasion.
Biltong is typically made from a thicker and fattier cut of meat and has a longer drying time, explains Naturopathic Medical Doctor Donese Worden. When you taste it, it's flavorful and chewy, and at times, a bit tangy. It's heartier and slightly healthier than its brother, beef jerky.
"The meat is air-dried for two to three weeks, spiced with simple ingredients and then thinly sliced, making it more tender than other meat snacks on the market."
South African native and co-founder of Kalahari Biltong, Brett Johnston, says that the biggest difference between beef jerky and biltong is the preparation. While jerky is cooked and heated for hours, the biltong-making process follows a centuries-old tradition: "The meat is air-dried for two to three weeks, spiced with simple ingredients and then thinly sliced, making it more tender than other meat snacks on the market," Johnston says.
When he moved from his home country to the states, he missed snacking on biltong and decided to bring the authentic variety to America. The end product is Kalahari Biltong, an all-natural biltong brand, featuring cuts of meat that are high-protein, gluten-free, zero-sugar and unprocessed — which deems their snack compliant with Whole30, paleo and keto diets.
Is Biltong Healthier Than Jerky?
The short answer: Yes. If you're a fan of beef jerky, consider testing out biltong to spice up your snacking routine. After all, if you tend to buy off-the-shelf beef jerky, you may be surprised to know that it typically has added sugar and has been packaged for months before purchase. All of those preservatives allow for a longer shelf life, but may not spell good news for your health.
Biltong usually has some added nutritional benefits worth your attention.
Even though biltong is usually meatier than strips of beef jerky, Keith-Thomas Ayoob, RD and associate clinical professor at the Albert Einstein College of Medicine, confirms that biltong is lower in fat and higher in protein. If you find yourself struggling to make it through the workday or doing double-time on a hike, biltong can be an ideal pick-me-up. Not only is it filling but it'll give you an energy boost (without a sugar crash) thanks to the high protein content, Ayoob says.
‌Its Nutrients Are Heat-Stable‌
When foods are prepared — whether vegetables, proteins, carbs or fruits — they lose or gain nutrients. Because certain products and varieties from the ground release vitamins when they're heated, they have to be eaten raw for a person to get those nutrients.
The opposite is true for biltong, which Ayoob says is a heat-stable snack. Often, biltong is packed with vitamin B12, iron, magnesium and zinc, and all of those stay within the meat after it's cooked and left to dry. This isn't always true with other proteins, so it's a positive perk for this South African treat.
‌It's Helpful for Meeting Weight-Loss Goals‌
When we set weight loss goals, there are plenty of hurdles to overcome. Not only do we need to get into the right mindset to remain motivated, but we have to re-train our appetites to be healthier and less, well, demanding. Ayoob says that biltong is an ideal snack for anyone who is trying to drop weight.
"Its calories come almost entirely from protein and it's an easy way to cut excess calories and maintain high-quality nutrition," he explains. "As a dried snack, it can help satisfy hunger without having to eat a high volume of food, something people may not want to do when pressed for time or after a workout."
Bottom line: Meat eaters and paleo fans should give biltong a chance. Who knows, it may even inspire your next trip!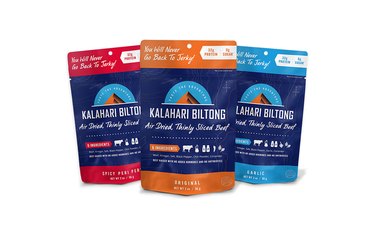 ‌Buy it:‌ Amazon.com; ‌Price:‌ $19.50 for a 3-pack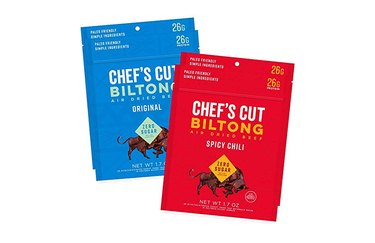 ‌Buy it:‌ Amazon.com; ‌Price:‌ $21.49 for a 4-pack