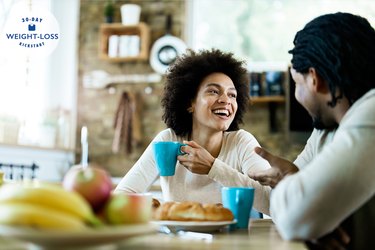 When you're pressed for time in the morning, you might grab a quick banana on your way out the door and call it a breakfast. But fast forward half an hour: You already have the stomach grumbles and you're eyeing a chocolate croissant through a bakery window.
Whether you want the willpower to avoid overindulging at a holiday party or to deny the donuts in your office pantry, these six flavorful and filling, dietitian-approved breakfast recipes will satisfy your belly until lunch rolls around — or longer. They're packed with protein and fiber to steady your blood sugar levels, since dips and spikes can screw with your appetite.
1. Strawberry Protein Pancakes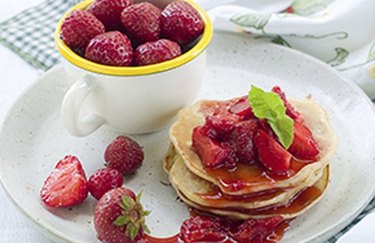 2. High-Protein Chocolate Breakfast Smoothie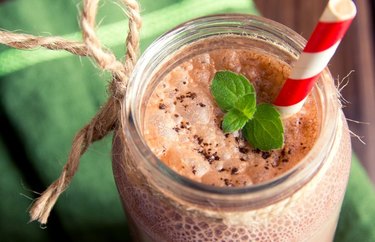 Failing in the fiber department? At 12 grams per serving, this silky chocolate smoothie will help you reach your daily fiber quota thanks to psyllium husk (a form of fiber that comes from the plantago ovata plant), Taub-Dix says. Not only is fiber fundamental for a healthy digestive system, it also delays your body's absorption of sugar, which curbs your appetite and keeps your cravings in check.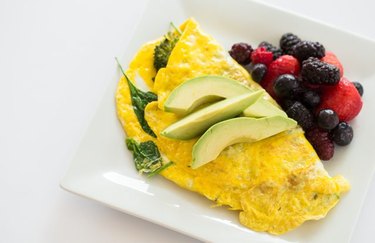 Eggs are an egg-cellent (we had to!) source of protein in this filling omelette overflowing with fiber-rich spinach, broccoli and avocado (which also contains healthy fats to keep you satisfied even longer). And, with 2 1/2 cups of veggies, you're well on your way to reaching your daily recommended value of greens, Taub-Dix says.
4. Overnight Peach Melba Oatmeal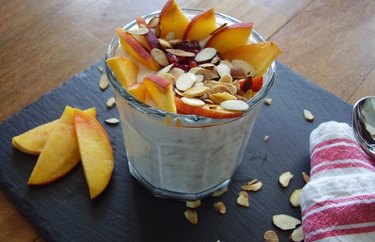 Peach melba gets a healthy makeover in this overnight oatmeal, which replaces vanilla ice cream with low-fat milk and Greek yogurt to supply the bulk of protein for this mouthwatering morning meal, according to Taub-Dix. Sliced almonds offer a satisfying crunch and an extra dose of filling protein and fiber.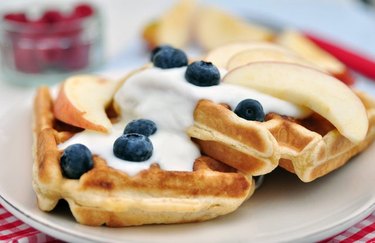 It's hard to resist a healthy breakfast you can prepare in under 10 minutes, Taub-Dix says. Simply toss these whole-grain waffles in a toaster, top with protein-rich Greek yogurt, finish off with fiber-dense fresh berries and breakfast is served. For an even bigger protein boost, add a schmear of almond butter, she adds.
6. Peanut Butter Protein Pancakes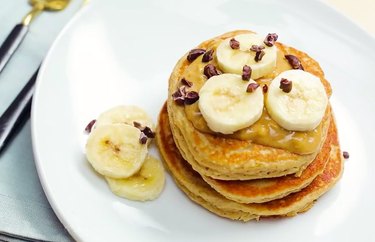 Between cottage cheese and egg whites, this powerhouse peanut butter breakfast has all the protein you'll need to quiet belly rumbles until lunch, according to Taub-Dix. And, since this recipe substitutes powdered peanut butter for a full-fat spread, you'll cut your fat and calories by 85 percent without sacrificing an ounce of flavor.