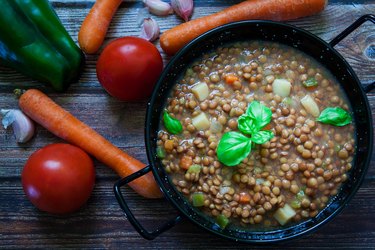 "Tiny but Mighty" should be the official slogan of the lentil. The legume is loaded with protein and fiber and is a healthy addition to many diet plans.
People following a gluten-free diet will also be happy to learn that these legumes are even gluten-free — what can't they do?
However, if you're buying a pack at the store or ordering a lentil dish at a restaurant, you'll want to follow precautions to enure they're truly GF.
What Makes Lentils Gluten-Free
Gluten is a protein found wheat, rye and barley and these grains' derivatives.
Since lentils are a type of legume and not a gluten-containing grain, they are naturally free of gluten and safe to eat on a gluten-free diet, according to the Celiac Disease Foundation.
Lentils are low in fat and sodium yet high in protein and fiber, according to the Harvard T.H. Chan School of Public Health. So, if you want to make your lunch a little more satiating, they're a great food to add to almost anything.
Lentils are also a prebiotic food, which means they feed the friendly bacteria in your gut, helping you maintain a healthy gut microbiome.
How to Make Sure Lentil Products Are Gluten-Feee
Although lentils on their own are gluten-free, that's not necessarily the case with all lentil dishes or products. Whether you're ordering in a restaurant or buying the legumes in bulk, cross-contamination is always a risk to consider.
Cross-contact occurs when foods touch gluten-based foods either while they're being prepared or manufactured, according to the Celiac Disease Foundation.
If your lentils are prepared or stored in the same area as other gluten ingredients, the risk of cross contamination increases and they might not be safe on a GF diet.
You'll also want to be cautious of buying lentils in bulk, especially if they're stored in large bins or barrels, according to the Celiac Disease Foundation. Often, these containers are reused and may have previously held wheat, rye or barley grains.
What to Look for in Gluten-Free Lentil Products
One of the best ways to protect yourself from cross-contamination is by checking the packaging and reading the ingredient list on the foods you buy.
First, check the ingredient list and allergen warning for any gluten foods. Then, flip the package over to the front and find a "Gluten-Free" label.
The label verifies that the food is regulated by the Food & Drug Administration (FDA) and contains less than 20 parts per million (ppm) of gluten, a generally safe amount.
Some foods may even have a Certified Gluten-Free seal, which means they've been tested and verified by a third-party organization such as the Gluten-Free Certification Organization (GFCO). Like the FDA, the GFCO tests for gluten contaminants but only certifies products that contain less than 10 ppm of gluten.
Gluten-Free Lentils to Buy
Pride Of India Whole Masur Brown Lentils ($14.99 per jar, Amazon.com)
TruRoots Organic Sprouted Green Lentils ($36.23 per 6-pack, Amazon.com)
Pride Of India Split Masur Red Lentils ($9,99 per jar, Amazon.com)
Gluten-Free Lentil Recipes
Now that you're on the lentil bandwagon, you can incorporate them into just about any dish for some extra nutrients and protein.
1. Curry Coconut Chicken, Red Lentils and Bok Choy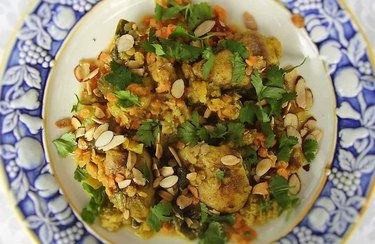 Calories: 495
Protein: 43 grams
Add some flair to your typical family dinners with this curry coconut chicken recipe that requires relatively few ingredients to complete.
Rich in fiber, this recipe is a great choice if you're looking to boost your satiety throughout the evening. Fiber passes slowly through your system, helping you stay full and regular. But this nutrient will also keep your blood sugar levels steady.
2. Red Lentil Coconut Soup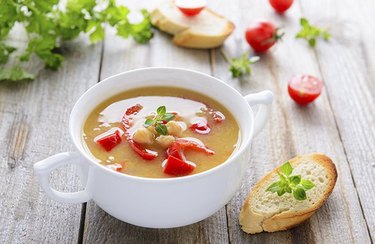 Calories: 301
Protein: 13 grams
You may not consider soup to be a filling and hearty dish but this lentil coconut recipe will change your mind. If the fiber isn't enough to convince you, the protein content in this soup will.
Thanks to the chickpeas in this dish, you'll not only get 13 grams of protein but you'll also get some anemia-fighting iron, too. Spritz some fresh lemon juice over the dish — the vitamin C in the lemon helps increase the iron's bioavailability.
3. Sweet and Spicy Carrot and Lentil Salad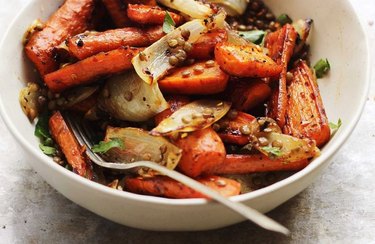 Calories: 127
Protein: 6 grams
This salad has it all, mixing sweet, spicy and savory ingredients. You can enjoy this salad as a side or make a bigger batch and enjoy it solo.
As the recipe only calls for a tablespoon of maple syrup, you can thank the carrots for the sweet notes in the dish. Plus, they'll provide a solid dose of vitamin A, which supports skin and eye health.