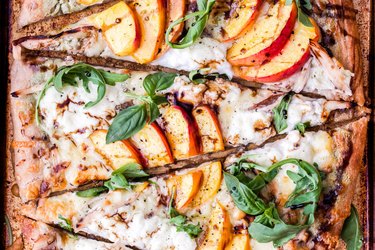 They're only ripe for a month or two and when they're not in season, biting into one feels like eating a bland rock. Yep, you guessed it. We're talking about the sweet summertime fruit: Peaches.
But as much as we love this hydrating summertime fruit, more often than not, we reach for them as a sweet treat, limiting their versatility.
To help you step out of the box, we tapped two registered dietitians to share delicious and nutritious peach recipes that aren't desserts.
1. Peach Chicken Basil Glow Bowls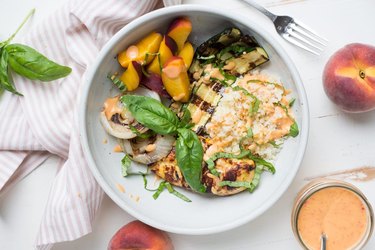 This easy-to-make bowl is paleo and Whole30-friendly as well as gluten- and dairy-free.
"And since the dressing is olive oil-based, the healthy fats it provides help our bodies better absorb the vitamins from the fruits and vegetables," Zhu says.
2. Sweet 'n' Spicy Chicken Tacos With Avocado and Peach Pico de Gallo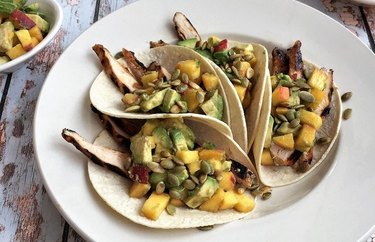 Switch up your traditional Taco Tuesday for this summery edition. Swap your tomato salsa for this peach pico de gallo for a sweet, spicy and citrus addition to your taco.
"The combo of peaches and avocado in this pico de gallo bumps up the overall potassium in this recipe," Zhu says. "Potassium is a mineral we need to balance out sodium in order to regulate water retention in the body and support heart health."
Every taco needs a crunchy element and this recipe calls for pumpkin seeds, a source of plant-based fats and protein. You'll also get good protein from the chicken.
3. Skillet Balsamic Peach Pork Chops With Feta and Basil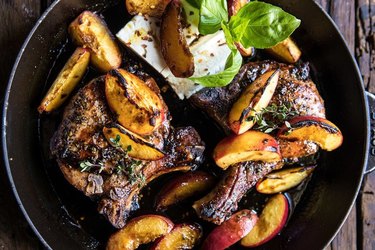 Balsamic vinegar, peaches and pork chops — trust us, the combination is mouth-watering. The best part is this restaurant-worthy meal can be prepared and served in just 30 minutes.
"Pork is particularly rich in B vitamins, which our bodies need for energy production and regulating our nervous system," Zhu says.
One 6-ounce serving of pork chops provides about 20 percent daily value of potassium, Zhu adds. Not to mention, these meaty chops are a great source of protein, too.
The highlight of this dish is the mix of fresh notes from ripe peaches, honey and oregano. Try serving it alongside a fresh green salad or a batch of roasted broccoli.
Get the Skillet Balsamic Peach Pork Chops With Feta and Basil recipe and nutrition info at Half Baked Harvest.
4. Grilled Peach and Watermelon Burrata Salad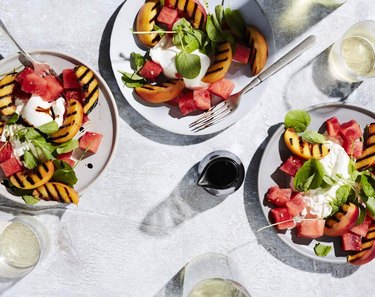 This non-traditional salad screams summertime. It's light and refreshing and the perfect treat on a hot day.
"This recipe contains several ingredients that help support healthy skin," says Zhu. "Both peaches and watermelon naturally contain over 80 percent water and serve as additional sources of hydration." Watermelon is also high in lycopene, a powerful antioxidant that may support our immune system and heart health.
Blatner says this recipe is a great way to use those not-quite-ripe peaches you have on your cupboard. "Grilling peaches brings out natural sweetness, which is a good trick if you have peaches that aren't ripe yet."
She also suggests doubling (or tripling) on the watercress. "Watercress is a superstar in the vegetable world and has been ranked as one of the highest-antioxidant vegetables of all time," Blatner says. This salad is a win-win.
Get the Grilled Peach and Watermelon Burrata Salad recipe and nutrition info at SkinnyTaste.
5. Chicken, Peach and Ricotta Pizza With Argula and Balsamic Glaze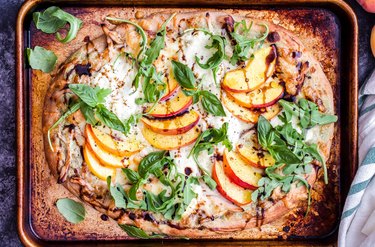 This pizza uses a base of whole-wheat pizza dough, which is great because whole-grain products tend to be more nutrient-dense compared to dough made of white flour.
Whole grains aren't as processed and stripped of their nutrients like refined grains are and therefore provide more fiber, iron, magnesium and B vitamins.
You'll also get good protein in this dish thanks to the chicken and ricotta cheese (which also provides calcium). Overall, this meal is a great balance of both macronutrients and micronutrients.
Get the Chicken Peach and Ricotta Pizza With Argula and Balsamic Glaze recipe and nutrition info at Recipe Runner.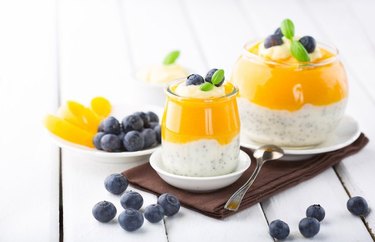 We love the versatility of this four-ingredient yogurt. It can be eaten as a breakfast or a snack and whipped up in less than five minutes — just let it soak overnight.
"This recipe is a fiber superstar," Blatner says. This sweet treat contains 8 grams of fiber thanks to the peach and chia seeds, so you can expect your tummy to be full for longer.