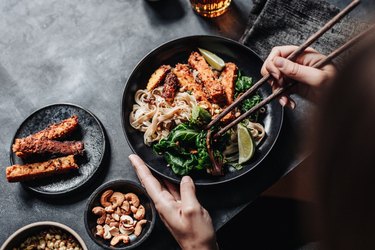 By now, there's a good chance you've heard of tofu, and with the growing popularity of plant-based diets, you may have even given it a try. But what about tempeh, tofu's plant-based cousin with gut health benefits?
Tempeh is similar to tofu in that it's a soy-based plant protein, but both how it's made and the end product are very different. Tofu is made by compressing soy milk, whereas tempeh is created by fermenting cooked soybeans and then compacting them into a patty (although you can also find tempeh made with flax, barley, millet and brown rice).
Because tempeh is a fermented food, it's a rich source of probiotics, according to Harvard Health Publishing. Probiotics support our overall gut health and may have other beneficial effects on our health, from mental wellbeing to our immune system and heart health, according to a January 2015 article in ​Current Opinion in Gastroenterology​.
Tempeh is also packed with fiber and protein — two nutrients that are key when you're losing weight. Both help you feel full, and protein helps you maintain your muscle, which is a boon for your metabolism.
Did you know that keeping a food diary is one of the most effective ways to manage your weight? Download the MyPlate app to easily track calories, stay focused and achieve your goals!
In fact, a June 2014 study in ​The American Journal of Clinical Nutrition​ found that soy-based proteins were just as effective as meat when it came to supporting weight loss, maintaining lean body mass and providing a feeling of fullness.
A 3-ounce serving of cooked tempeh has 140 calories, 4.5 grams of fat, 1 gram of saturated fat, 10 grams of carbohydrates, 7 grams of fiber, 0 grams of added sugar and 16 grams of protein, according to the USDA. In comparison, a 3-ounce serving of ground beef (80 percent lean) has 215 calories, 14 grams of fat, 5 grams of saturated fat, 0 grams of carbohydrates, 0 grams of fiber, 0 grams of added sugar and 21.5 grams of protein.
Like tofu, tempeh is easy and versatile to work with. It doesn't have an overpowering flavor, so it easily takes on the flavor of the other foods and spices you're cooking with. Here are five delicious tempeh recipes that will support your weight-loss efforts.
1. Asparagus, Shiitake and Tempeh Stir-Fry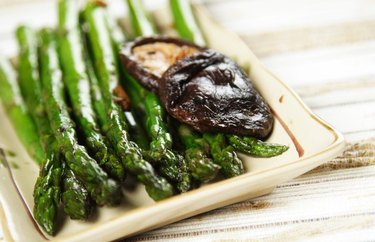 ​Calories:​ 423
​Protein:​ 24 grams
Stir-frys are an easy way to pack in fiber- and nutrient-filled veggies and lean sources of protein, like the tempeh used here. This recipe calls for cooked brown rice, but if you're trying to reduce calories or carbohydrates ​or​ up your veggie intake, you could try cauliflower rice instead.
When choosing sauces for seasoning, limit options higher in added sugar. Also, be cognizant of the amount of oil you're adding to the wok or skillet.
2. Gingery Asian Tempeh, Broccoli and Rice Soup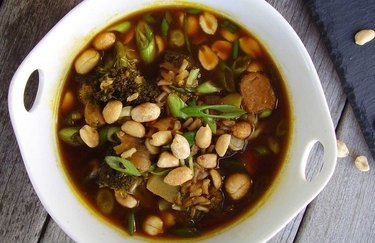 ​Calories:​ 398
​Protein:​ 19 grams
Soup may be comfort food, but research shows it can also support your weight-loss goals. An April 2014 paper in the ​British Journal of Nutrition​ found that those who frequently enjoy soup typically weigh less, have smaller waistlines and appear to have better diets overall.
To reduce your sodium intake and prevent feeling bloated, choose "low-sodium" or "reduced-sodium" broths.
3. Spicy Tempeh, Red Pepper and Sweet Potato Hash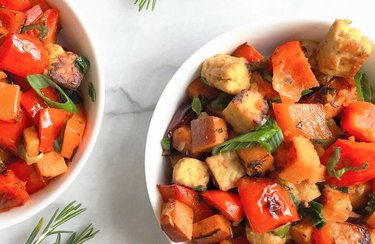 ​Calories:​ 269
​Protein:​ 13 grams
Eating eggs with hash is a popular breakfast option, but to keep it plant-based, try tempeh instead. This dish is perfectly balanced — as in, it's an ideal combo of protein, carbs and fat to keep you satiated. Sweet potatoes are a good source of complex carbs and olive oil brings the healthy fats. Tempeh of course contains protein, but it's also a rich source of filling fiber.
4. Sweet Potato Buddha Bowl with Curry Pecan Dressing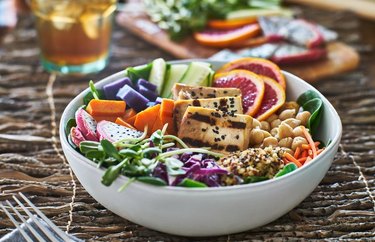 ​Calories:​ 712
​Protein:​ 23 grams
This dish is super filling with various sources of protein (edamame and tempeh) in addition to the 12 grams of fiber per serving (that's half your needs for the day!).
It's also on the higher calorie end, so if you'd like to reduce the overall calorie count, you can cut the amount of sweet potato and/or rice that's called for.
5. Acorn Squash with Broccoli
​Calories:​ 157
​Protein:​ 9 grams
This recipe makes for a delicious side dish, or try doubling the portion to enjoy it as a meal. The acorn squash and carrot bring a hint of sweetness, which pairs well with broccoli and the nutty tempeh flavors. Almond butter is used to create a creamy sauce and amp up the flavors, but it's also a source of healthy fats and vitamin E.
This dish would be delicious on top of a bed of brown rice or even cauliflower rice if you're looking for a lower-calorie option.