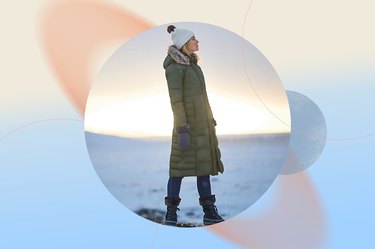 While you might associate sub-zero temperatures with frostbite, chattering teeth and bunkering down indoors, I, a Minnesotan, think of skating on frozen ponds, snowshoeing and sledding. And it's thanks to my beloved Eddie Bauer winter coat that these outdoor activities are possible.
Let me back up: For most of my upbringing, I kept warm in the winter with your run-of-the-mill puffer jacket. And while this kept my top half toasty, my knees were always knocking.
That is, until I got my Eddie Bauer parka — their Lodge Down Duffle Coat, to be exact. This sleeping-bag-like jacket keeps me warm from top to toe, and makes it possible to spend more time safely enjoying outdoor winter activities.
Still don't believe that it's possible to enjoy yourself in the tundra? Here's why this Eddie Bauer coat makes that pipe dream a reality.
Men's vs. Women's Coats
We make deliberate choices about the language we use when it comes to gender. While more brands now carry gender-neutral workout clothes, you'll still typically see clothing brands, like Eddie Bauer, market their products to men or women.
The main differences between most women's and men's outerwear are width and size. In some cases, men's coats are built with a more relaxed fit, so people with a broader torso or who like to wear a lot of heavy layers may want to try men's versions, while people with a narrower build or who wear lighter or fewer layers may prefer women's versions.
‌Looking for a men's version? ‌Check out the Eddie Bauer Men's Everson Down Jacket, which is also on sale!
‌Buy it:‌ EddieBauer.com; ‌Price: ‌$209.30
When I say this coat keeps me warm from top to toe, I mean it. The fleece-lined, down-insulated parka zips from my calves all the way up to my chin. It also has deep, fleece-lined pockets and a detachable hood that perfectly encircles my face, so even my hands and cheeks get a little extra heat.
You might imagine that a coat that keeps you warm in the frigid cold would be on the bulky side. And while this Eddie Bauer winter coat is by no means tiny (after all, it nearly goes down to my ankles), it's not too thick — in other words, it doesn't affect my mobility.
I've worn this parka walking, skating, snowshoeing and sledding without feeling restricted. Skiing (cross-country and downhill) is the only activity where I prefer a shorter jacket so that my legs have more room to spread out.
It's Built for Below-Zero Temperatures
This jacket is built for temperatures as low as -60 degrees Fahrenheit, according to the Eddie Bauer website. And while I haven't had the pleasure of spending time outside in that extreme cold, I have put this parka to the test in temperatures as low as -20 degrees F.
I wouldn't exactly recommend going outdoors in temperatures that low, but sometimes you need to quickly pop outside to, say, get into your car. And this coat has protected me from the worst of the cold in situations like that.
But in slightly warmer temperatures (think -10 to 32 degrees F), this coat keeps me incredibly comfortable. Given the full coverage, I feel protected from cold and wind down to my fingertips.
The coat also traps heat nicely: If you partake in an outdoor adventure that gets your heart pumping, you'll further insulate yourself against the cold as the coat holds in your body heat for the long haul.
Another perk: It's not too warm to wear on more temperate days. I've worn this coat while out for a walk on a cold fall evening, for instance, and didn't feel overly heated.
It Comes in Inclusive Sizing
The coat comes in XS to 3X in regular, petite, tall and plus sizes.
Once you're wearing it, it feels snug enough that no cold air can waft through, but roomy enough that you can wear a sweater or sweatshirt under for added warmth.
The same goes for the hood — there's enough room to wear a thick hat, but not so much room that the hood won't keep your bare head insulated.
It's Got Some Fun Details
This Eddie Bauer winter coat doesn't skimp on the details. For instance, you can zip and unzip your coat from the top or bottom, depending on if you want to make room for your legs while on a winter's walk or let some air into your torso area if sledding gets you sweating.
The coat also features fleece cuffs to seal out the chill and keep your arms warm, as well as a deep internal pocket to hold your personal effects. As an added bonus, storing your phone in the inside pocket keeps it warm so you don't have to worry about it prematurely running out of battery from cold exposure. (Minnesota problems?)
You can also buy the coat in one of four different colors to customize it to your style.
If you're sick of feeling cold in the winter — in Minnesota or otherwise — this is the jacket for you. Even better, it's currently on sale for $209.30, down from the original price of $299.
And I'm not the only one raving about it — check out Eddie Bauer's review section to browse the testimonials of more than 2,300 happy customers.
‌So if you've been yearning for a way to comfortably get outdoors to stay active during the chilly months, add this cozy coat to your winter wardrobe!‌
More Great Outdoor Clothes