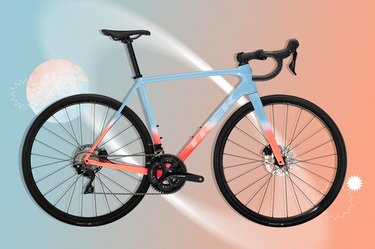 I haven't been a cyclist for long, but one thing I know for sure: I absolutely love bikes. I love the way they look, I love the nitty-gritty mechanical pieces and I even love the sound the chain makes when you stop pedaling.
Bikes are an extra special kind of vehicle. They represent hard-earned freedom when you find yourself 20 miles from home, your body as your only engine. And when you climb up a steep hill or whiz around a sharp turn, your heart pounding in your ears, bikes can even make you feel fearless.
But it's my bike, specifically, that I can't wait to ride each and every day (even if it's just down the street). Allow me to introduce you to Candy, my new Trek Emonda ALR 5. (The pastel pink and blue color of my bike almost looks like cotton candy, hence the bike's name.)
Features and Functionality
I've always been a huge Trek fan — my very first, used '90s road bike was a Trek, too. It's a super reliable brand, which is why I jumped at the Emonda ALR 5 when it came out.
As a relatively new cyclist, I didn't feel quite ready to drop thousands and thousands of dollars on a bicycle (yes, I did briefly considered selling my car). But nevertheless, I've been a lifelong athlete and wanted something quick, light and functional for my first, upcoming triathlon.
The Emonda ALR 5 checks all those boxes: It's built with a lightweight alloy frame (my 54cm frame is less than 20 pounds) and has 11 speeds, ideal for new racers (or cyclists in general) without the astronomical price tag.
The disc brakes are super powerful, a necessary safety measure for city cycling. I'd recommend disc brakes for cyclists anywhere, though, especially for high-speed riding or biking in populated areas.
As I mentioned above, I love nitty-gritty details, so let's get into them. Aside from the high-quality, durable Shimano 105 components and full-carbon fork, I love the smoothness of the ALR 5's gear shifting. If you've ever ridden an older road bike (or hybrid bicycle), you're probably familiar with the clanking sounds and bumpy feel of shifting gears. But Candy's shifting is absolutely seamless with zero noises or jolts.
Another small detail I absolutely need to share? The grip tape on the handlebars is amazing. I get pretty sweaty hands while I ride, but I feel totally slip-free and safe on this bike. And although the seat is minimal, the cushion is way more comfortable than you'd think.
Get Your Own Trek Emonda ALR 5 Road Bike
Although I love all kinds of bicycles, the Trek Emonda ALR 5 is by far the most reliable and purely fun machine I've ever owned.
But don't just take my word for it. There's a reason why Trek is such a popular and beloved bike brand: They're reliable, prioritize quality components and offer a pretty wide array of bikes (even for those who aren't road cyclists).
Ready to zip through the roads on your own Emonda ALR 5? It's a purchase you won't regret.
More Bike Gear I'm Loving
Beyond cycling shorts, there are a few must-haves I'd personally recommend you buy once you snag your own Emonda ALR 5.