Fever blisters--also known as cold sores--are a symptom of infection with the herpes simplex virus. The American Social Health Association reports that up to 90 percent of Americans carry the virus. One-third experience periodic outbreaks that are sometimes accompanied by flu-like symptoms. The absence of characteristic respiratory symptoms of flu such as dry cough and nasal congestion distinguishes between flu-like symptoms due to herpes and those caused by the influenza virus.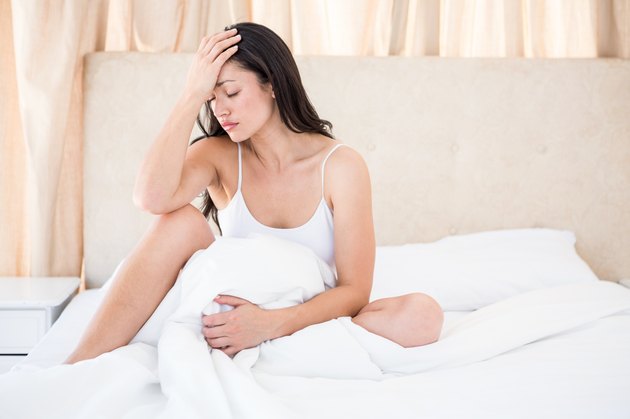 Fever
Low-grade fever or a subjective sense of feverishness without a measurable elevation in body temperature sometimes signals an impending outbreak of fever blisters. Dr. Lawrence Corey in "Harrison's Principles of Internal Medicine" explains that fever may last for three to seven days and is often the first flu-like symptom to resolve. For fever that interferes with rest, patients can try over-the-counter medicines that contain acetaminophen or ibuprofen.
Pain
In addition to mouth pain, patients with fever blisters often report other pain symptoms such as headache, sore muscles and sometimes joint pain. Tender, pea-sized lumps on the neck and at the angle of the jaw represent swollen lymph nodes. Unfortunately, according to the authors of a 2008 report in the "Archives of Internal Medicine," pain symptoms often persist for 10 to 14 days, subsiding only when fever blisters start to heal.
Poor Appetite
Dr. Corey notes that patients with fever blisters often complain of poor appetite, particularly during the early days of the outbreak. Poor appetite may reflect the response of the immune system to the infection or, in the case of fever blisters, more local symptoms. Swollen lymph nodes can render the jaw movements required for swallowing extremely painful. Also, while most people recognize fever blisters that occur on the lips, few know that similar lesions can also develop inside the mouth, especially during the first outbreak.