Headaches and diarrhea can be caused by a viral or bacterial infection. According to Mayo Clinic, headaches and diarrhea can be caused by food poisoning. People who suffer from influenza or develop malaria can also experience headaches and diarrhea. If symptoms of headache or diarrhea do not stop or get worse, contact a health care provider.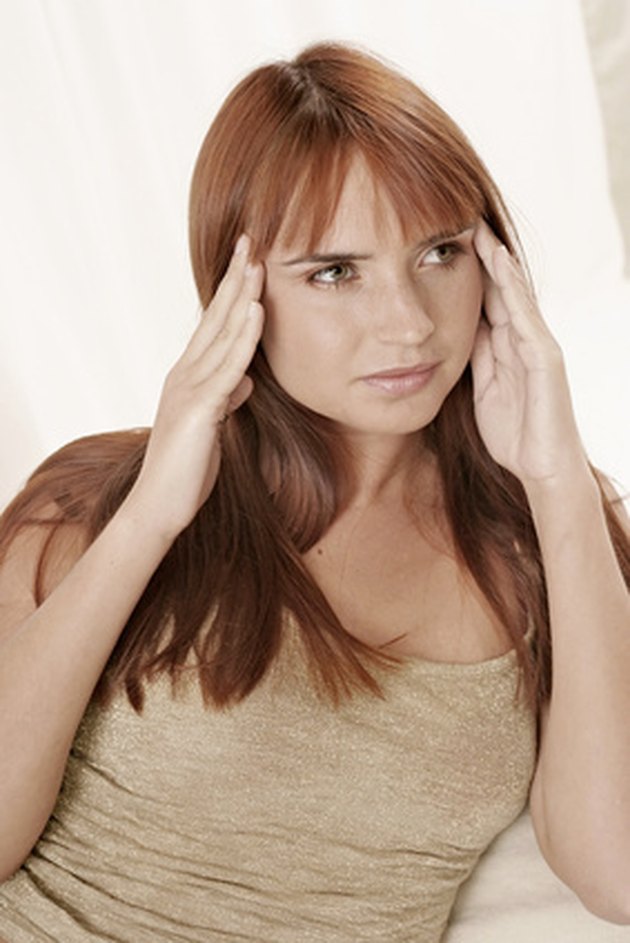 Influenza
Influenza is caused by a viral infection. Typically the viral infection affects the respiratory system and is very contagious. Symptoms of a flu infection can include a headache, congestion, nausea, diarrhea and vomiting, according to the University of Maryland Medical Center. Other symptoms can include chills and sweats, body aches and a fever that comes on suddenly. There are many types of influenza viruses, which is why it is recommended to get a flu shot every flu season. People who have a weakened immune system due to illness, work with children or are pregnant have an increased risk of catching the flu. Most cases of a flu infection will clear up on their own and treatment requires nothing more than drinking plenty of liquids and getting plenty of rest.
Food Poisoning
Food poisoning occurs when food or water that contain viruses, bacteria or parasites is ingested. Bacteria such as staphylococcus or E. coli are two of the most common causes of food poisoning. According to the Mayo Clinic, symptoms of food poisoning include headaches, diarrhea and abdominal cramps. Other signs of food poisoning can include weakness, fever and chills. Food poisoning is often a result of poor sanitary conditions, improper food handling or improper food storage methods. Food that is left out too long or that has been contaminated by someone who may have come in contact with a bacteria or germ can help contribute to a case of food poisoning. Treatment of food poisoning depends on the type of germ that causes it. In many cases rest and the replacement of lost fluids will be the only necessary treatment. Antibiotics may be prescribed for certain bacterial infections.
Malaria
According to the Mayo Clinic, malaria is a potentially deadly disease that is caused by a one-celled parasite called plasmodium. The parasite is generally spread through mosquito bites. Symptoms of malaria include headache, diarrhea, nausea and vomiting. Other signs include moderate to severe shaking and chills, profuse sweating and high fever. Malaria is often found in parts of the world where the climate is tropical or sub-tropical. Most developed countries with temperate climates are free from malaria. Travelers who visit foreign places--such as Asia, Africa or South America--where it is possible to come into contact with mosquitoes that carry malaria, are at risk for contracting the disease. According to the Mayo Clinic, treatment for malaria often requires one of several types of medicines including chloroquine, quinine sulfate or a combination of atovaquone and proguanil.
Is This an Emergency?
If you are experiencing serious medical symptoms, seek emergency treatment immediately.