The thyroid gland helps regulate the body's metabolism and as such can affect your weight. Although supplemental thyroid hormone may help with unwanted weight gain caused by thyroid dysfunction, synthetic thyroid hormone is a prescription medication that should only be taken by people with a documented thyroid problem. Certain vitamins and minerals may also help maintain thyroid health, but their benefits for weight loss are unproven. Talk to your doctor if you are concerned about thyroid disease and before taking any sort of supplement.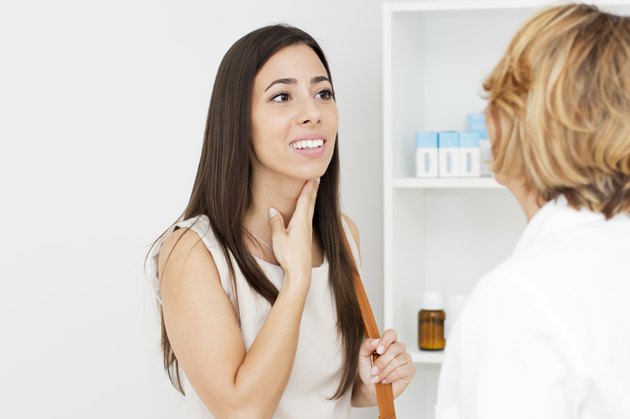 Thyroid Basics
The thyroid produces a hormone that regulates metabolism. Too little thyroid hormone production causes hypothyroidism. According to EndocrineWeb.com, as many as 10 million Americans may have some form of hypothyroidism. Hypothyroidism can cause mild weight gain or make it hard to lose weight. The condition can also cause chronic fatigue, dry skin, hair loss, cold intolerance, muscle cramps and constipation.
Synthetic Thyroid Hormone
People with hypothyroidism can take synthetic thyroid hormone to help supplement their thyroid hormone levels. Although correcting a thyroid hormone deficiency can help people with thyroid problems lose weight, supplemental thyroid hormone is not meant to be used as a weight-loss aid for people with normally functioning thyroids. Taking large doses of synthetic thyroid hormone can cause muscle and bone weakness or damage the heart.
Supplement Choices
Different vitamins and minerals are sometimes touted as important for maintaining thyroid health. One mineral in particular, iodine, is important for making thyroid hormone, and the lack of dietary iodine can contribute to lower hormone levels. Iodine deficiency, however, is very rare today in developed countries since iodine is added to table salt. Other supplements recommended for maintaining thyroid function include zinc, selenium and vitamins B, C, D and E. But there is no clinical evidence that these supplements have a significant effect on thyroid health or promote weight loss.
Diagnosing Thyroid Dysfunction
If you are concerned that your thyroid isn't working properly, talk to your doctor. Feelings of fatigue and weight gain can be caused by many health problems, including depression. Your doctor can order blood tests that will measure thyroid hormone levels and determine if you have thyroid problem. Be sure to talk to your doctor first before taking any sort of supplement.
Is This an Emergency?
If you are experiencing serious medical symptoms, seek emergency treatment immediately.