Shingles is a reactivation of the herpes zoster virus—chicken pox—and typically occurs among the elderly. Its side effects can be agonizing. According to dermatologist Priya Sampathkuma and colleagues, as published in their 2009 Mayo Clinic Proceedings article, the herpes zoster virus may reactivate because of aging and/or an impaired immune system.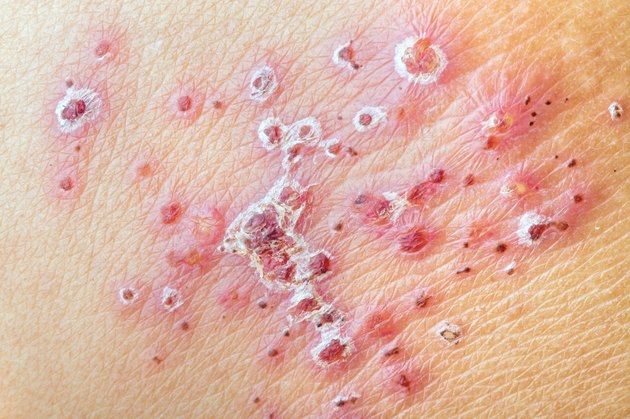 According to a national survey by Sandra S. Chaves, M.D., of the Centers for Disease Control and Prevention, in her 2007 article in Public Health Reports, of adults ages 65 and older, 1.5 percent of those people age 65 to 74 contracted shingles in the past year and 2.5 percent of those age 75 and older reported shingles in the past 12 months.
Red Itchy Rash
The red rash that characterizes shingles develops into crusty patches in about two weeks, according to a 2008 article in Neurologic Clinics. This rash tends to be extremely itchy and is very infectious; others can contract the virus by touching skin lesions of an infected person.
The rash may appear on the trunk of the body or the trigeminal nerve of the cheekbone, says infectious disease consultant Bethany A. Weaver, O.D., in an article published in the Journal of the American Osteopathic Association. If the rash is on the face, it may also affect the ophthalmic nerve and lead to eye complications—and in the most severe case, blindness.
Pain
Pain is another early side effect of the reactivated virus, according to Dr. Sampathkuma. She notes the pain may precede the rash, and consequently, the individual may be misdiagnosed with a heart attack, appendicitis, ulcer or similar. However, the pain may be treated with opiods and lidocaine, as well as anticonvulsants.
Dr. Weaver says the pain is believed to be caused by an inflammation of the nerves directly triggered by the virus. Elderly patients have a greater risk for severe pain. She says the pain has been described as stabbing, sharp and throbbing. It is mildest in the morning and builds up during the day, no matter what medications are used for treatment.
Post-Herpetic Neuralgia
Post-herpetic neuralgia (PHN) refers to pain occurring more than three months after the shingles rash heals. According to Dr. Weaver, 47 percent of adults with acute herpes zoster older than 60 develop PHN. In an article in the International Journal of Clinical Practice, Canadian physicians R.W. Johnson and J. McElhaney say some shingles symptoms are predictive for PHN, such as severe rash and acute pain. They also say PHN may occur more frequently in women.
With PHN, even a light touch on the skin or someone's clothing brushing against an affected person causes severe pain. Some patients think they must be imagining this pain because their rash has healed. However, the pain is very real. PHN is treated with topical medications such as lidocaine. It may also be treated with tricyclic antidepressants such as amitriptyline or nortriptyline because of their sedating effect on PHN patients, who often have trouble sleeping because of pain. If tricyclic antidepressants don't work, Dr. Sampathkuma says selective serotonin reuptake inhibitors (SSRIs) or selective norepinephrine reuptake inhibitors (SNRIs) may help, in addition to anticonvulsants or opioids.
Dr. Johnson and Dr. McElhaney say other treatments include acupuncture and transcutaneous electrical nerve stimulation (TENS). Relaxation therapy may also be helpful.
Is This an Emergency?
If you are experiencing serious medical symptoms, seek emergency treatment immediately.