Overworked, strained, or sprained muscles can find relief in muscle rub creams. Most creams work by drawing blood to the injury area, but others provide soothing cooling sensations that ease inflammation, or penetrating homeopathic herbs that encourage muscle healing. Muscle rub creams are designed to loosen up knots and tight, tired muscles to keep them performing their best.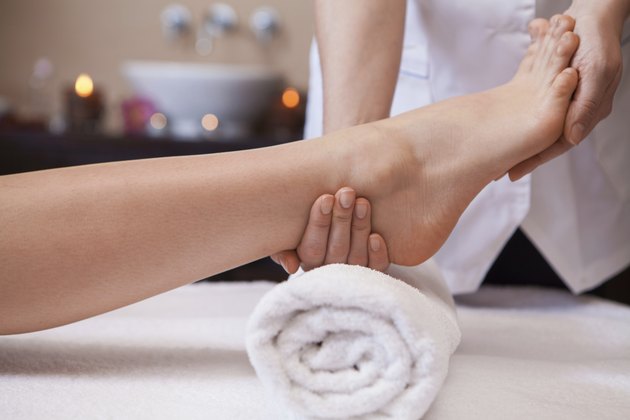 Cooling Balms
While warming muscle rubs improve circulation, cooling muscle rubs reduce inflammation and swelling due to overuse or injury, writes Jimson Lee, a lifelong athlete and sprint coach and founder of SpeedEndurance.com, an online speed training resource. For cooling relief, try Aloette Soothing Muscle Rejuvenator, a cool, lightweight lotion built on active ingredients such as menthol, witch hazel and St. John's wort oil. Badger Body Care also produces a Cooling Blend version of its USDA Certified Organic Sore Muscle Rub; its essential oils of eucalyptus, peppermint, cajeput and clove help reduce inflammation and calm overworked muscles.
Warming Balms
Tiger Balm Ultra Sports Rub combines cassia oil for pain relief, and methol and camphor to create vasodilation, which draws blood into the skin capillaries, creating a sensation of warmth, according to speed coach Jimson Lee. Lee also recommends Finalgon Cream, manufactured by Boehringer Ingelheim, but warns that if used full-strength, it can be extremely hot on the skin. Badger's USDA Certified Organic Sore Muscle Rub creates a considerably gentler warming sensation arising from cayenne and essential oils of rosemary, ginger and lemongrass. Tiger Balm's muscle-calming properties also make it an effective headache relief. Baptist Health Systems, the parent company of Baptist Medical Center and other Christian-based medical care facilities in Mississippi, reports that Tiger Balm was as effective, and faster-acting, than acetaminophen in relieving the pain of acute tension headaches.
Arnica Cream
Arnica montana is a flowering perennial herb native to Europe and Russia. Its extract has long been used as a homeopathic remedy for sprains, bruises and trauma. Lee recommends Boiron Arnicacare Gel to reduce inflammation and pain. Other arnica creams include Hyland's Arnica Montana 1X, which is virtually pure arnica thickened with beeswax, for sprains; Kathleen Lewis Stiff and Sore, which combines arnica with comfrey and peppermint, for deep-tissue massage; and Zip's Muscle Rub, which combines arnica with menthol, wild yam, and white willow extracts, for sore muscles that are experiencing spasms.