Yawning is a natural and involuntary bodily function that can be caused by fatigue, boredom or even a response to someone else yawning. But excessive yawning—which DiagnoseMe.com describes as one to four a minute—can be a sign that your diet is unbalanced, you have an allergy or a medical condition. Always rule out lack of sleep and exercise and poor diet before considering the more serious reasons behind your yawns.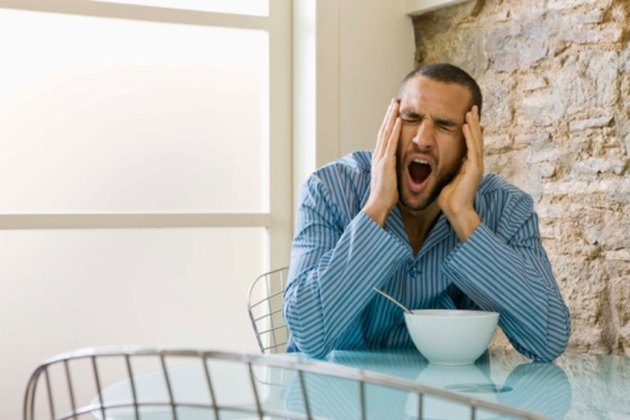 Diet
Some of the foods and drinks you think are boosting your energy could be doing the complete opposite. You might drink coffee to give you an energy boost, but too much can actually cause fatigue and yawning, says Wellsphere. This is because the energy high is followed by an even bigger energy low. Foods that are high in sugar—and those you are even mildly allergic to—can have the same effect. According to Wellsphere, fatigue is one of the first signs of a food allergy, and if you only have a mild reaction, you might not get any of the more obvious symptoms, such as a rash or an upset stomach. If you notice you are yawning and feeling tired after eating, write down everything you eat for a week and how you feel after every meal. This will help pinpoint any foods that are having an adverse effect on you.
Neurological Conditions
It's perfectly normal to feel tired and start yawning toward the end of the day, but some people constantly feel fatigued and have an uncontrollable desire to fall asleep, no matter what time it is or where they are. According to MedicineNet.com, this is a neurological condition called excessive daytime sleepiness, or narcolepsy. It affects more than 100,000 Americans and, although it's not always serious, it does require medical attention.
Excessive yawning can also be a sign of a vasovagal reaction, which might indicate heart problems. MedicineNet.com describes this reaction as being an involuntary reflex of your nervous system that slows your heart down, reduces your blood pressure and diverts the blood to your legs instead of to your head. As your brain is deprived of oxygen, these episodes can cause fainting. Other neurological conditions associated with excessive yawning include epilepsy, brain tumors and multiple sclerosis, says DiagnoseMe.com.
Medical Conditions
Neurological conditions aside, the medical reasons behind excessive yawning are generally mild and easy to treat. According to Wellsphere, allergies and hay fever often give rise to congestion or breathing problems, which can interrupt sleep and therefore make you yawn more often than you would normally.
Fatigue is also one of the most common side effects of anemia, which is caused by a lack of iron in the blood. This condition can go undiagnosed because many people don't think tiredness is a serious enough reason to go to the doctor, says Wellsphere. If you are tired and yawning more than usual—and you think your diet might be low in iron—consider getting tested for anemia.
A sluggish thyroid can cause extreme tiredness because it regulates your metabolism, says Wellsphere. If you are consistently tired and you can rule out the other causes of fatigue and yawning, visit your doctor for a blood test to check if your thyroid is functioning normally.