The flu virus passes by droplets through the air from an infected person to another person or object. The flu virus can be passed through shaking hands, coughing, sneezing or touching a contaminated object. If you touch a contaminated object, the flu virus can spread to your body when you touch your mouth, eyes or nose. The virus lives on objects for a relatively short amount of time.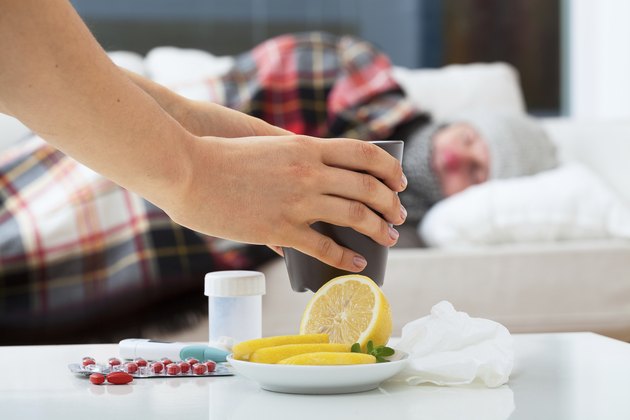 Time Frame a Flu Virus Lives on Objects
How long the flu virus remains on an object varies. But, in general, the flu virus can live outside of a body from between a few seconds to 48 hours. How long it lives on objects depends on the strain and the type of object it's contaminated. The flu virus can survive on your hands for about one hour.
Types of Objects Flu Prefers
The flu virus seems to live longer on nonporous objects, such as plastic, metal or wood. Wash objects made of these materials frequently. The virus does not seem to pass easily between fabrics or paper.
Considerations to Remove Flu Virus
To prevent or remove a flu virus from living on an object, you must disinfect it frequently. If an object is used by multiple people, such as a phone or door knob, regular cleaning can help prevent the spread of the flu virus.
Prevention of Flu Virus Spreading
After coming in contact with contaminated surfaces, the best way to avoid getting the flu is to wash your hands. Wet your hands and apply soap. Scrub your hands for at least 20 seconds, then rinse thoroughly. Dry with a clean towel or air dry.
Warning on Infected People
An infected person can be contagious for about five days. Avoid contact with that person or objects they may have touched. If you have come in contact with contaminated objects, clean your hands and take measures to prevent the flu. Get plenty of rest, eat healthy foods, exercise and build up your immune system. An annual flu vaccine is recommended for people with compromised immune systems, such as the elderly.
Is This an Emergency?
If you are experiencing serious medical symptoms, seek emergency treatment immediately.