Diuretics, as defined by Cedars Sinai Medical Center, are medications which reduce the amount of salt or sodium and water in the body. They are given for high blood pressure, congestive heart failure, water retention and kidney or liver disease. There are three types of diuretics, including loop-acting, thiazide and potassium-sparing. The Mayo Clinic explains that each works by affecting a different part of the kidneys.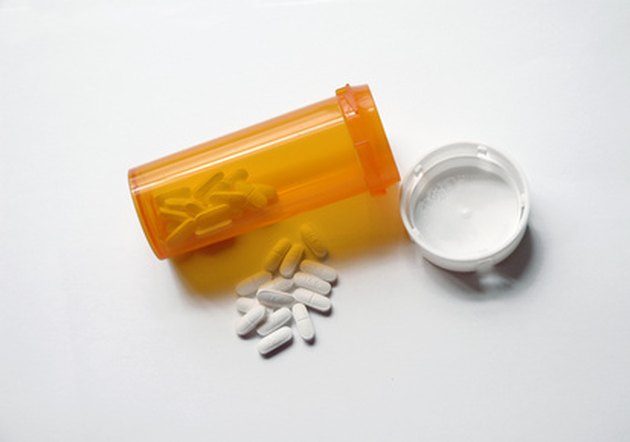 Loop-Acting Diuretics
CVPharmacology.com describes loop-diuretics as those which act on the thick ascending limb in kidney's glomerulus, which is near the Loop of Henle which is responsible for concentrating the urine. These loop diuretics are very powerful and cause the kidneys to get rid of more urine, lowering the amount of water in the body, according to Cedars Sinai Medical Center. Drugs.com states that the most commonly used brand names of loop diuretics in the United States are Bumex, Lasix and Edecrin. Most patients in heart failure are prescribed a loop-acting diuretic, because they are more effective in unloading water and sodium than the other kinds. Adverse side effects can include low potassium and magnesium levels, low blood pressure and dehydration.
Thiazide Diuretics
Thiazides are the most commonly used diuretic, according to CVPharmacology.com. These drugs inhibit the sodium-chloride transporters in the distal tubule in the kidney. Thiazides are the only types of diuretic that widens the blood vessels to lower the blood pressure according to Cedars Sinai Medical Center.
The Mayo Clinic cites that a large group of medical experts recommend that most people should try thiazide diuretics as the first choice to treat high blood pressure. Among the most commonly used brand names of these drugs in the United States are Diuril, Hydrodiuril, Hydromox, Naqua, Naturetin, Oretic and Zaroxolyn. Some adverse effects can include high cholesterol, low potassium and magnesium levels and high blood sugar levels in diabetics.
Potassium-Sparing Diuretics
According to CVPharmacology.com, potassium-sparing diuretics cause more sodium and water to pass into the collecting duct of the kidney's glomerulus to be excreted in the urine. Because they inhibit sodium reabsorption, these diuretics do not produce a low potassium level as the other two kinds; therefore they are often given in conjunction with a thiazide or loop diuretic. The most common names of the medications are Aldactone or spironolactone, Dyrenium and Midamor. Adverse effects may include high potassium levels and gastric problems such as ulcers.