Fungal pneumonia is a type of lung infection caused by fungi. Though this condition is uncommon in most people, those with compromised immune systems due to certain types of infection, such as HIV, are at an increased risk of developing fungal pneumonia. The symptoms of fungal pneumonia are similar to those experienced by people with bacterial or viral pneumonia. Anyone who develops fungal pneumonia symptoms should consult a physician to receive appropriate care.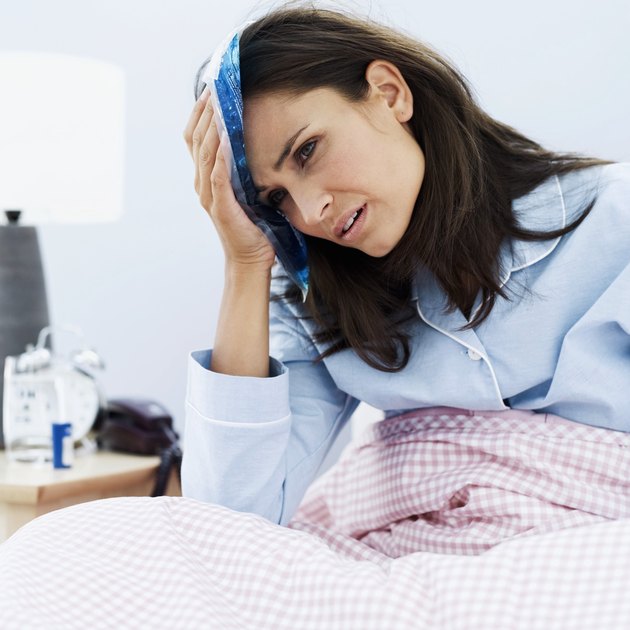 Cough
Fungi within the lungs can irritate and inflame a person's airway passages. This inflammation can lead to symptoms of cough in affected people, warn health professionals with MedlinePlus. Cough symptoms are typically mild and sound dry or hacking. Fungal pneumonia symptoms generally arise progressively over several days or weeks but can arise more quickly in people who don't have AIDS.
Difficulty Breathing
Lung inflammation due to the presence of a fungal infection can cause constriction of a person's airways. Airway constriction makes it harder for oxygen to reach the lungs, leading to breathing difficulties in people with fungal pneumonia. Affected people can experience unusual shortness of breath, especially during or after physical activity. When oxygen can't reach the lungs in an efficient manner, affected people can also experience sensations of pain or tightness in the chest. Severe breathing difficulties can cause a person's skin or nails to appear blue in color due to lack of oxygen. Persistent or severe breathing problems can be a serious medical problem that requires prompt attention from a physician.
Fever
Fever symptoms can arise in people who have fungal pneumonia. Typically fever symptoms exceed 100.5 degrees F and persist for several days. People who develop a fever can also experience unusual sweating, chills or headache symptoms. Additionally, a fever can cause a person's skin to appear flushed or be warm to the touch.
Fatigue
Fungal pneumonia can cause fatigue. Fatigue symptoms can also occur in conjunction with muscle or body aches. Affected people may need to sleep for longer periods throughout the day and can have difficulty remaining alert and attentive.
Weight Loss
A person with fungal pneumonia can experience unintended weight loss as a symptom of infection. Weight loss can occur in conjunction with fever and may contribute to symptoms of fatigue.
Is This an Emergency?
If you are experiencing serious medical symptoms, seek emergency treatment immediately.