Tiger Balm, a pain reliever used to relieve symptoms of headaches, arthritis, muscular aches and pains and other conditions, contains camphor, menthol, clove oil, peppermint oil and cajaput oil. Several types of Tiger Balm, including a pain relieving patch and a topical ointment, can be sold over the counter. Though side effects following Tiger Balm use occur rarely, there are a few serious side effects reported after use of Tiger Balm. If you use or are considering using Tiger Balm, you should be aware of these potential effects.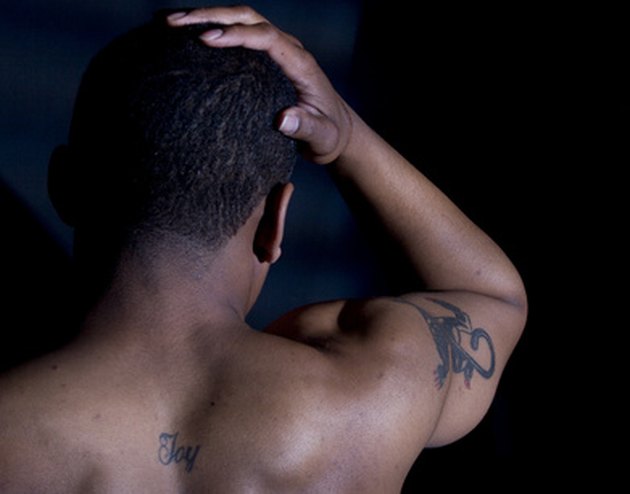 Allergic Reactions
Rarely, severe allergic reactions can occur at the application site. According to Drugs.com, symptoms of an allergic reaction to Tiger Balm include rashes, hives, itching, difficulty breathing and chest tightness. Do not use Tiger Balm if you have ever had an allergic reaction to products containing menthol or camphor. If you are concerned about potential allergic reactions, test Tiger Balm on a small area of skin before applying it to the targeted area.
Skin Irritation
Even in people who are not allergic to any ingredients used in Tiger Balm, skin irritation may occur. This is particularly likely if the skin area has cuts or scrapes. Do not apply Tiger Balm to skin that is wounded or irritated. If the balm does get onto these areas of the skin, rinse it off immediately to avoid further irritating the skin. Some people with sensitive skin have reported skin irritation following the use of Tiger Balm. In a scientific study performed in Hong Kong, two of 20 patients experienced skin irritation after applying Tiger Balm to the skin.
Hypersensitivity to ingredients
Some people may develop hypersensitivity to Tiger Balm, particularly after repeated use. Hypersensitivity reactions can include contact dermatitis, according to the UK Electronic Medicines Compendium.
Chemical Burns
Avoid applying Tiger Balm to your eyes or mucous membranes. The warning label on Tiger Balm packaging advises consumers that this product is for external use only. Although some sites on the Internet describe the use of Tiger Balm during sex, this should be avoided, as Tiger Balm may cause chemical burns or painful irritation.
Tingling Sensation
Although not a medically important side effect, Tiger Balm commonly causes tingling in the application area. Some people describe this as an uncomfortable sensation.
Accidental Overdose
Although exceedingly rare, this complication stems from the inclusion of methyl salicylate in some formulations of Tiger Balm. This ingredient can be lethal in very high doses. BenGay, a similar over-the-counter cream containing methyl salicylate, is suspected in the death of a young athlete. To avoid an overdose, do not ingest Tiger Balm or use it on children under 13 years of age.
Side Effects Not Yet Reported
Some side effects of Tiger Balm may not have been reported to the FDA and may not yet be known. If you experience any effects you think may be caused by Tiger Balm, consult with your doctor or health care professional.