Cellulitis refers to a skin infection that has spread through the dermis layer and into the tissues under the skin. The infection usually contains common skin bacteria such as staphylococcus or streptococcus. Cellulitis occurs at sites of skin breakdown, where bacteria have access to deeper tissues. According to the "Massachusetts General Hospital Handbook of Internal Medicine," the legs are common sites of cellulitis because people frequently get cuts and scratches on the legs, and because the blood circulation tends to decrease in the most distal parts of the leg.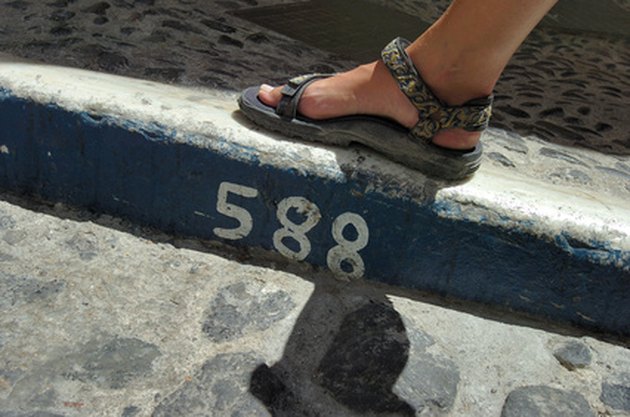 Cephalexin
Cephalexin, a generic name for Keflex, is an oral antibiotic that physicians often prescribe as a first-line treatment for mild leg cellulitis. According to Drugs.com, cephalexin is effective against many common skin bacteria. It is a relatively safe drug, but people who are allergic to penicillin can also develop an allergic reaction to cephalexin and should avoid taking the medication.
Clindamycin
Physicians prescribe clindamycin, brand name Cleocin, as a first-line treatment for cellulitis for patients who are allergic to penicillin, according to the "Massachusetts General Hospital Handbook of Internal Medicine." Clindamycin is affective against many of the common bacteria that cause leg cellulitis.
Bactrim
Bactrim is a combination oral antibiotic consisting of trimethoprim and sulfamethoxazole, according to Drugs.com. Although physicians usually start with either cephalexin or clindamycin to treat patients with leg cellulitis, they may switch to Bactrim for patients whose infection does not respond to the first-line treatments. Bactrim is one of the few oral medications effective against a type of bacteria called MRSA, which is resistant to the other common antibiotics.
Vancomycin
When leg cellulitis becomes severe or resistant to antibiotics, patients have to be admitted to a hospital for intravenous antibiotics, according to the Mayo Clinic. In those cases, physicians often turn to vancomycin, brand name Vancocin, as it is very effective against resistant bacteria such as MRSA. Vancomycin must be administered in intravenous form for leg cellulitis, so patients have to stay in the hospital to receive it.