Lung diseases such as chronic obstructive pulmonary disease and asthma can cause wheezing, difficulties with breathing and tightness in the chest. Albuterol inhalation solution is used to treat and prevent these symptoms. It is also used to prevent troubles with breathing during exercise. Albuterol inhalation solution works to make breathing easier by opening the air passageways to the lungs. The albuterol solution is turned into a mist by a device called a nebulizer, which turns the liquid into a mist so that it can be breathed in. Albuterol can cause side effects that are not serious and will go away. Other side effects are considered serious and require medical attention.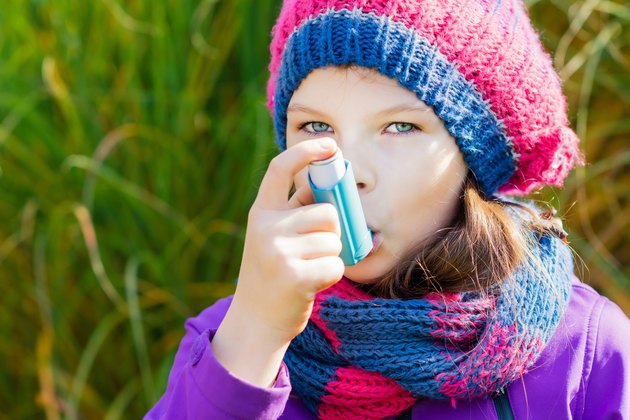 Side Effects
Albuterol inhalation solution can cause side effects that include coughing, nervousness, headaches, vomiting and throat irritation. Albuterol can also cause part of the body to shake uncontrollably. Another side effect of albuterol is bone, muscle or back pain. A physician should be notified if these symptoms become serious or if they don't go away.
Serious Side Effects
Some side effects of albuterol solution inhalation are considered more serious. A physician should be contacted immediately if any of these symptoms occur. These serious side effects include hives, a rash, itching, hoarseness, difficulty with swallowing and chest pain. Another serious side effect that requires contacting a physician immediately is a heartbeat that is irregular, fast or pounding. Swelling is another serious side effect. The swelling can occur in the throat, lips, eyes, ankles, feet, lower legs, hands and face. An increase in the difficulty with breathing is another serious side effect.
Overdose Symptoms
In the case of an overdose, a poison control center should be contacted. If breathing has stopped, emergency services should be contacted. The symptoms of an overdose of albuterol include nausea, dizziness, lack of energy, difficulty with falling asleep or with staying asleep, dry mouth, excessive tiredness, nervousness, headaches, an uncontrollable shaking of part of the body, chest pain, seizures and a fast, irregular or pounding heartbeat.
Children Side Effects
The most common side effects in children are irritability, restlessness and nervousness. Higher doses of albuterol increase the risk of these side effects. While the liquid form of albuterol, taken orally, has a greater risk of side effects than the inhaled form, albuterol taken with a metered inhaler, which produces the mist in a precise dose and counts the doses, has the least risk of these side effects.
Modifying Medication
Physicians may modify the medication being taken if there are side effects with taking albuterol. The physician could prescribe a lower dose or could switch to a metered inhaler. The physician could also change the prescription to levalbuterol, which also acts to open up air passageways but could have fewer side effects.