Doctors and researchers are always on the lookout for new diseases and ways to treat them. In some cases, despite an honest effort from everyone involved, a disease ultimately takes the life of the patient. In the case of rare diseases that are fatal, research is often limited due to the limited number of patients. While treatments are sometimes effective for these conditions, some won't be diagnosed in time for the treatments to be effective.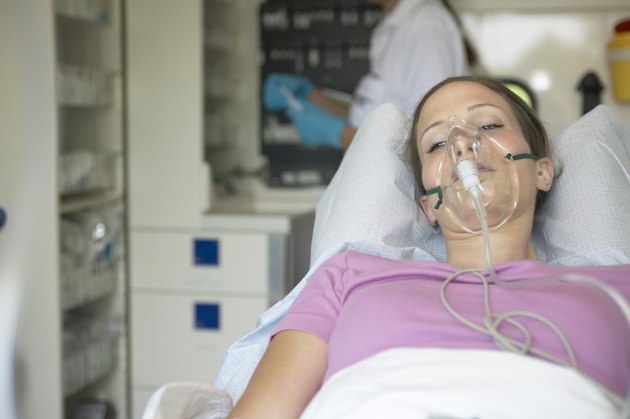 Hutchinson-Guilford Progeria Syndrome
Hutchinson-Guilford Progeria Syndrome is often referred to as progeria. This disease causes a person to age prematurely. It is generally diagnosed in children who are 18 months to two years old. Symptoms include stiff joints, dislocated hips, hair loss, aged-looking skin, strokes and heart disease. People with progeria live an average of 8 to 21 years, with heart disease being the most common cause of death. Another form of the syndrome, called Werner's syndrome, affects people in their late teen years. The average life span for people with this condition is 40 to 50 years.
Creutzfeldt-Jakob Disease
Creutzfeldt-Jakob disease is a fatal brain disease that often claims the victim's life within a year of onset. It affects one out of every 1,000,000 people, according to the National Institute of Neurological Disorders and Stroke. Visual disturbances, trouble with coordination, memory lapses, blindness, weakened extremities and behavior changes are the symptoms of this condition. Most people with the disease are around age 60.
Lymphangioleiomyomatosis
Lymphangioleiomyomatosis is a rare but fatal lung disease that affects only women, typically those ages 20 to 40. It affects fewer than one out of 1 million people. Symptoms are cough, chest pain, blood-tinged sputum and trouble breathing. Treatment for this condition is possible via a lung transplant.
Nuclear Factor Kappa B Essential Modulator (NEMO)
Nuclear factor kappa B essential modulator (NEMO) is a rare condition that affects only males. This immune-system disease is so rare that it wasn't discovered until 2007. As of August 2009, only 60 children have been definitively diagnosed with the condition. Symptoms include repeated infections, delayed tooth development with teeth that are conical when they come in, fine hair, compromised skin, ocular troubles and abnormal bone growth. The only treatment for this condition is a bone-marrow transplant.
Menkes Disease
Menkes disease is a condition that affects copper metabolism. It is caused by a defective gene. A child with Menkes disease usually has normal development for the first six to eight weeks of life; however, after that point, symptoms such as a low body temperature and weak muscle tone become apparent. Additionally, the infant may have seizures and colorless, kinky hair that breaks easily. Treatment for the condition is copper supplementation. This treatment won't prolong life unless it is started shortly after birth, which is highly unlikely as there isn't any screening done at birth for the condition. Without early treatment, the child will pass away by his 10th birthday.
Neuronal Ceroid Lipofuscinoses (NCL)
Neuronal ceroid lipofuscinoses (NCL) is the name of a group of four rare conditions: Batten's disease, Santavuori-Haltia disease, Jansky-Bielschowsky disease and Kufs disease. Collectively, these conditions are present in two to four out of every 100,000 live births in the United States. All of these except Kufs disease are fatal. Batten's disease affects children aged 5 to 10 and results in death by the late teens or 20s. Santavuori-Haltia disease affects children 6 months to 2 years old and results in death by 5 years old. Jansky-Bielschowsky disease affects children from 2 to 4 years old and results in death generally between 8 and 12 years old. Kufs disease affects adults and isn't considered fatal. All of these conditions are characterized by progressive loss of sight and seizures that don't respond to conventional medical treatments.