Edema is swelling caused by the build up of fluid in the cells or tissues. In acute periorbital edema, the eyelids and area around the eye are swollen. There are various causes for this disorder. Some people can develop periorbital edema from an infection on the face, but it can also develop as a symptom of a kidney disease.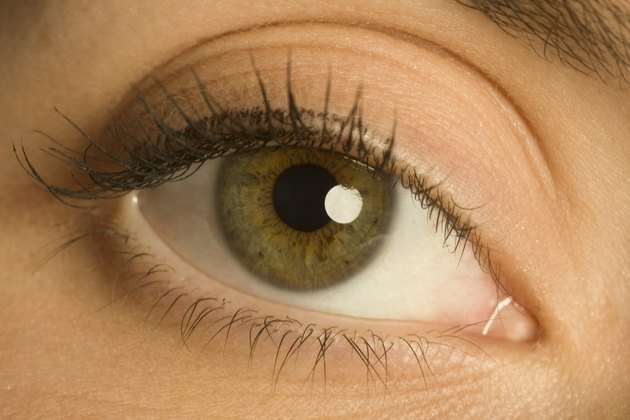 Periorbital Cellulitis
Cellulitis is an infection of the skin and the tissue just beneath the skin. In periorbital cellulitis, there is an infection in the eyelid and tissue around the eye. This infection usually affects children who are younger than three years old, according to Richard Malley, M.D. in "Tintinalli's Emergency Medicine: A Comprehensive Study Guide." Most cases of periorbital cellulitis are caused by the Haemophilus influenzae, Streptococcus pneumoniae and Staphylococcus aureus bacteria, but the number of H. influenzae infections has greatly decreased since children started receiving vaccinations against this bacteria.
Orbital Cellulitis
Orbital cellulitis involves an infection in the orbit, or eye socket. While periorbital cellulitis mainly affects children, this infection affects people of any age, writes Dr. Malley in "Tintinalli's Emergency Medicine: A Comprehensive Study Guide." Orbital cellulitis is usually due to S. aureus bacteria that have spread to the eye socket from an infected area nearby. Most of the time, the original infection is in a sinus that is called the ethmoid sinus. Similar to periorbital cellulitis, the area around the eye is swollen and red, but it is not as swollen as with a periorbital cellulitis infection.
Postinfectious Glomerulonephritis
Glomerulonephritis is the medical term for the inflammation of the glomeruli. These are capillaries inside the kidney. This infection occurs in children between the ages of five and 15 years old, according to the Merck Manual. Children can develop this disorder after an infection caused by fungi, parasites, rickettsiae, viruses or bacteria. Most infections are due to the Streptococcus pyogenes bacteria, which cause pharyngitis and impetigo. Pharyngitis is the inflammation of the pharynx, while impetigo is a skin infection. Acute periorbital edema is one of the symptoms.
Cavernous Sinus Thrombosis
The two cavernous sinuses are spaces at the bottom of the brain. Some of the veins from the face and brain drain into these sinuses. A person can have a thrombosis, or blood clot, in a cavernous sinus if he has a facial infection caused by S. aureus. It is rare, and only happens if a blood clot forms in a facial vein and then travels to a cavernous sinus. This results in a sinus infection and periorbital edema. Many times, the edema is around both eyes, as explained by Ashish Shah, M.D. in "Current Diagnosis & Treatment in Otolaryngology--Head & Neck Surgery."