Today's children and teens recognize the value of earning extra spending money or gaining volunteer experience. Creating a resume is an important initial step in the process of obtaining employment or volunteer opportunities. In addition, a resume can help a student in future academic pursuits. Teaching your child to identify his skills, talents and achievements is key to putting together a winning resume for him.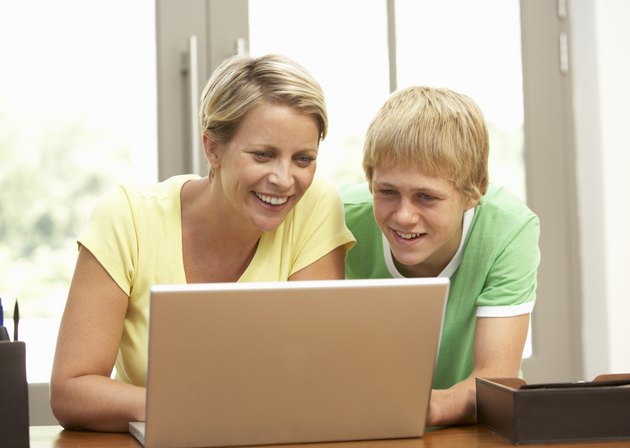 Create a Winning Resume
Step 1
Begin with basic information. At the top of the resume type the child's name, address, email address and phone number. Write a statement indicating the type of position for which the child is applying. As much as possible, your child should type the resume himself and become familiar with this process since he will use it for the rest of his life.
Step 2
Create specific sections in the resume. The first section is titled "Academic Achievements." State the grade your child is in and any educational awards she has won. For example, you may state that she is in sixth grade and an Honor Roll student or receives A's in Language Arts. List awards and certificates earned. This would be the ideal place to state that your daughter received first place in a creative writing contest, for example.
Step 3
Showcase any paid or volunteer work your child has performed in a section titled "Experience." Note the place and dates of service where he obtained the experience. Include a brief summary of his work there. For instance, if he volunteered at the animal shelter you would list it as follows: May-August 2010, County Animal Shelter, Volunteer Cat Sitter, responsible for cleaning cages and holding cats.
Step 4
Note sports, classes, and any other activities in which your child has participated in a section titled "Extra-curricular Activities." Encourage her to let her skills shine. Sports activities provide an opportunity to demonstrate experience in working as a team member. The College Board recommends that the resume emphasize skills and activities that are especially connected to the position for which the student is applying. She may need to write two or three different resumes, emphasizing different skills, if she is applying for very different jobs.
Step 5
Include a section for "Personal Characteristics." List attributes and talents not accounted for in other areas of the resume. Phrases to use include computer savvy, quick learner, responsible and hard worker, which are qualities potential employers seek in an employee.
Step 6
Add in any additional sections that will provide more valuable information about your child's abilities and experiences. As Andrea Torello of Rice Memorial High School in Vermont suggests, your child's resume should be a reflection of his strengths, interests and personality.
Step 7
Proofread the resume carefully for spelling errors upon completion. Think about each section and make sure you have not overlooked any experience or achievement. Then, print the resume on quality resume paper, just as you would for an adult's resume. With thought and careful wording, your child will be on her way to opening a door to future opportunities.
Things You'll Need
List of extra-curricular activities

Report cards

List of volunteer activities

Resume Paper

Computer
Tip
Discuss three people who could be used as references for your child and help your child contact those people and ask if they would be willing to be a reference. Write at the end of the resume that references are available upon request.
Explain to your child the importance of exercising caution when submitting a resume to someone as it contains personal information.