The bacterium Enterococcus faecalis is a normal inhabitant of the human intestine. In other body locations, however, Enterococcus faecalis can cause serious infections. The urinary tract, heart, bloodstream, abdominal cavity and skin wounds are common sites of Enterococcus faecalis infections. Symptoms associated with infections at these sites are the same regardless of the bacteria causing the infection. Laboratory testing is required to determine whether Enterococcus faecalis is the cause of any particular infection.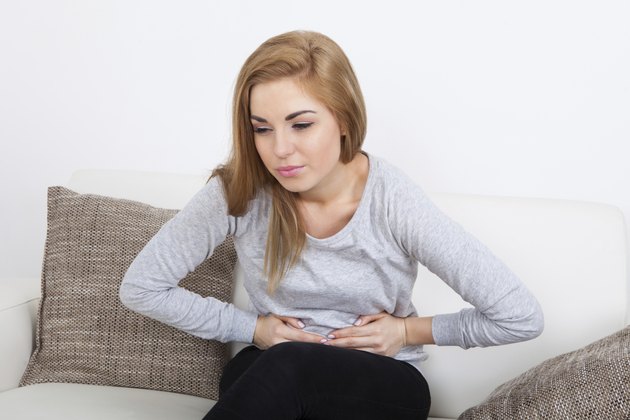 Urinary Urgency, Frequency and Pain
Enterococcus faecalis is a relatively frequent cause of urinary tract infections. People who have been recently hospitalized, had a urinary bladder catheter or a procedure involving the urinary tract are at increased risk for this type of Enterococcus faecalis infection. Common symptoms of urinary tract infection include burning pain with urination, urinary urgency and increased urinary frequency. In addition to these symptoms, an upper urinary tract infection of the kidney typically causes fever, chills and back or flank pain.
Episodic Fever, Night Sweats and Flu-like Symptoms
Enterococcus faecalis can cause an infection of the heart interior and valves, a condition known as endocarditis. The symptoms of Enterococcus faecalis-associated endocarditis usually develop gradually. Common symptoms include episodic low-grade fever and chills, headache and body aches, night sweats and fatigue. Long-standing endocarditis can damage the heart valves and cause symptoms of heart failure, such as shortness of breath and painless ankle swelling. Enterococcal endocarditis most commonly occurs in older men. Recent hospitalization and cancer increase the risk for enterococcal endocarditis.
Abdominal Pain, Nausea and Vomiting
Enterococcus faecalis can cause infections of the abdominal cavity, or peritonitis, and abdominal abscesses. These infections most commonly occur in hospitalized patients who have had recent abdominal surgery or medical procedures involving the abdominal organs. Patients with liver or kidney failure may develop spontaneous abdominal infections without recent surgery or procedures. Symptoms of peritonitis and abdominal abscesses include severe abdominal pain and tenderness, nausea, vomiting and a fever. Patients with an abdominal abscess may have a mass in the abdomen that can be felt on physical examination.
Wound Redness, Swelling and Oozing
Enterococcus faecalis may cause infections of surgical incision sites, ulcers and burns, especially among hospitalized patients. Infected wounds are typically red, swollen and tender. Pus oozing from the wound is an important sign of infection. Wound infections associated with Enterococcus faecalis commonly involve more than one type of bacteria in the infected tissue.
Is This an Emergency?
If you are experiencing serious medical symptoms, seek emergency treatment immediately.