Herpes simplex is a virus that can be referred to as HSV 1, which is responsible for cold sores, and HSV 2, which is responsible for genital herpes. According to the American Academy of Dermatology, once you are infected with the herpes virus it doesn't leave the body, but it takes up residence in nerve cells where it remains dormant until another outbreak is triggered. There are a few things that are common triggers of herpes outbreaks.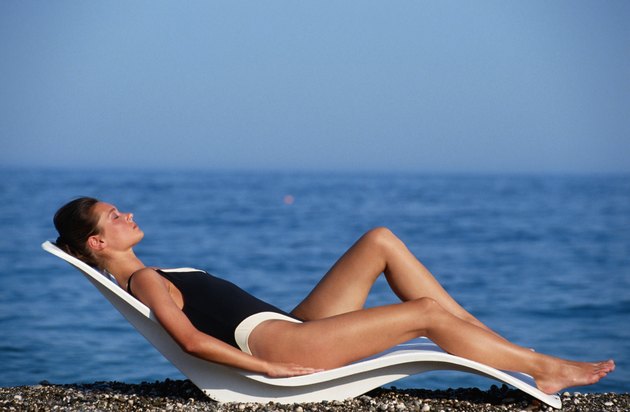 Sun
For years, the medical community has known that with HSV 1, one of the most common triggers is the sun. It is often overexposure that triggers herpes, and not simply short-term sun exposure. A study done by the National Institutes of Health and reported in the December 1991 issue of "Lancet," shows that exposure to UV rays will activate the herpes virus, but that if one applies sunscreen before UV exposure, it can prevent the herpes outbreak. Exactly how and why the sun triggers a herpes outbreak is not known, but if you are susceptible to outbreaks, be sure to wear sunscreen when you will be exposed to sunlight.
Fever
According to Penn State University Health Services, along with sun exposure, fever is the other most common cause of a herpes simplex 1 outbreak. In times of fever the body is under physical stress, and there is a change in the core body temperature. These changes often trigger a herpes outbreak in and around the mouth, and the sores are often referred to as "fever blisters."
Stress
Stress takes its toll on many body functions, and it is also listed by the American Academy of Dermatology as a common cause for a herpes outbreak. Researchers at the University of Southern California performed a study on stress and HSV 1 outbreaks in mice. The results show that stress activates the sympathetic nervous system and also weakens the body's immune system.
Sexual Activity
Herpes simplex 2, or genital herpes, is also able to resurface from its dormant state. While it can also be triggered by stress, and a weakened immune system, another possible outbreak trigger is sexual activity. The International Herpes Management Forum reports that damage or friction to the skin, such as during sexual intercourse or other activity, can activate a herpes outbreak.
Is This an Emergency?
If you are experiencing serious medical symptoms, seek emergency treatment immediately.