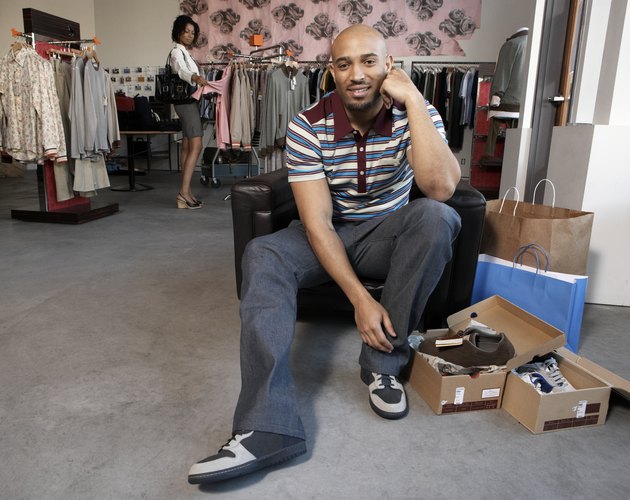 What to Look For
Traditionally, unattractive shoes were the only answer for people seeking relief from the misery of heel pain. Now the best walking shoes aimed at alleviating heel pain are also quite stylish. Look for shoes with proper arch support, stability and good shock absorption to reduce the risk of heel pain. According to the online library service of the National Institutes of Health, "most frequently, heel pain is not the result of any single injury, such as a fall or twist, but rather the result of repetitive or excessive pounding."
Common Pitfalls
Heel pain generally falls into two conditions, pain beneath the heel and pain behind the heel. To help alleviate the pain, shoes should have good arch support and a slightly raised heel. They must fit well on the front, back and sides of the foot, ideally with shock-absorbent soles, rigid sides and supportive heel counters. Remember to buy the proper shoes for a particular activity and to wear them for that purpose, and replace your shoes regularly as needed. Old and worn shoes commonly lead to heel problems.
Where to Buy
Buying online gives easy access to many specialist dealers who sell shoes designed for people with heel pain. The sites are generally informative, and there is a wide choice of styles for walking, sports and dress shoes. The American Podiatric Medical Association also publishes a buyers' guide of outlets that sell appropriate shoes for people with heel and other foot problems. Most retailers are happy to send catalogs of their products to prospective customers.
Cost
Prices for specialty shoes start at around $40 for lightweight therapeutic clogs with pain-easing cushioned soles and rise, to around $150 for top of the range smart leather shoes. Examples include the Orthaheel Tide Thong Sandals for men and women, which their manufacturer claims relieve foot and lower body pain with built-in orthotics, at a cost of some $55. The Orthaheel Women's and Men's Action Walker Shoes, in a trainer shoe style, cost around $100. Propet Women's Ghillie Walkers, offering support, stability and protection for the sensitive areas of the foot, cost around $70. Prices are current as of September 2010.
Accessories
If you own some shoes which are not fully supportive, you can still wear them and reduce the risk of heel pain at the same time by adding insoles and supports. Foot arch bands, some of them utilizing medical grade magnets to help reduce pain, and heels with arch supports, are only two of a wide range of products designed to help treat heel pain.
Insider Tips
Foot problems in children can be avoided with the right choice of shoes, which is especially important as children become more active. The American College of Foot and Ankle Surgeons urges parents to make the right choice of footwear, and has published helpful guidelines to prevent or minimize foot problems in children.
Is This an Emergency?
If you are experiencing serious medical symptoms, seek emergency treatment immediately.