A boil is a tender, warm and swollen red bump on the skin that resembles a pimple. It contains a white material called pus, which is a sign of bacterial infection. Boils -- also known as furuncles -- arise from a deep infection of the hair follicle. They commonly occur on the neck, breasts, face and buttocks, and sometimes the arms and legs. They can progress to a more serious infection if not treated properly. Treatment of a boil involves a procedure called incision and drainage, which is performed by a physician, and sometimes antibiotics.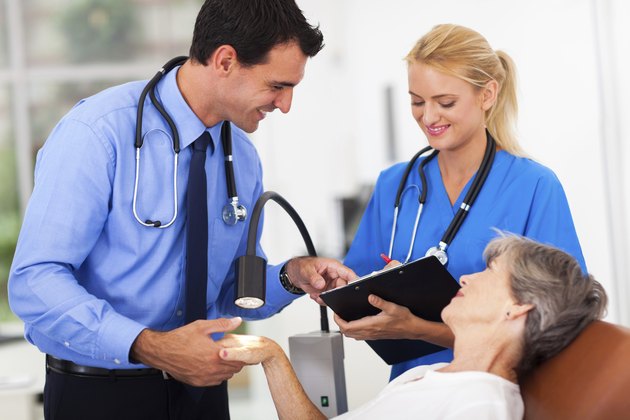 Incision and Drainage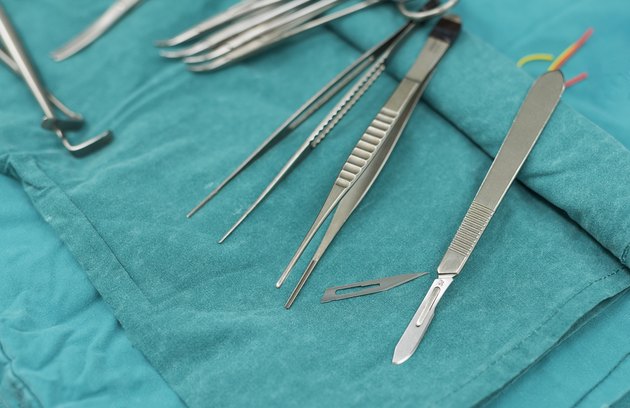 While some boils drain pus and heal on their own, the majority require a procedure called incision and drainage. Incision and drainage involves the doctor making a small cut down the center of the boil to release the pus and covering the area with a sterile dressing or band-aid, once all the pus is drained. The doctor will usually ask the person to follow up in 2 to 3 days to ensure the site is healing well.
Administration of Antibiotics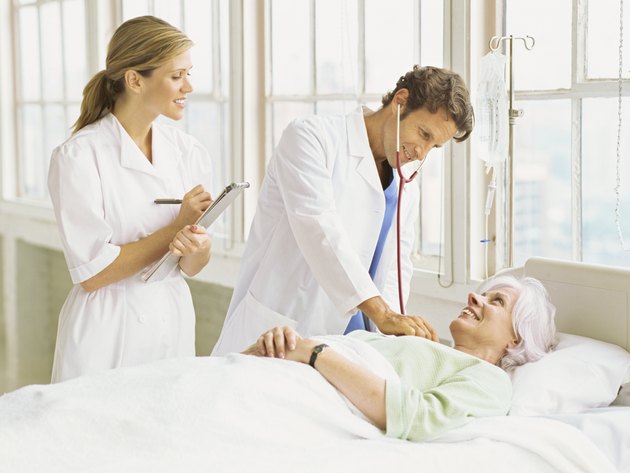 According to the Infectious Diseases Society of America, antibiotics -- in addition to incision and drainage -- are required only for moderate to severe boil infections. A moderate to severe boil infection is characterized by signs of a whole-body infection like fever, fast heart rate or breathing rate or a high number of white blood cells -- the body's infection-fighting cells. People who have boils and a weak immune system, or problems like diabetes, are also treated with antibiotics. The duration of antibiotic treatment is 5 to 10 days for people taking an antibiotic at home and 7 to 14 days for people in the hospital.
Antbiotics to Treat Staphylococcus Aureus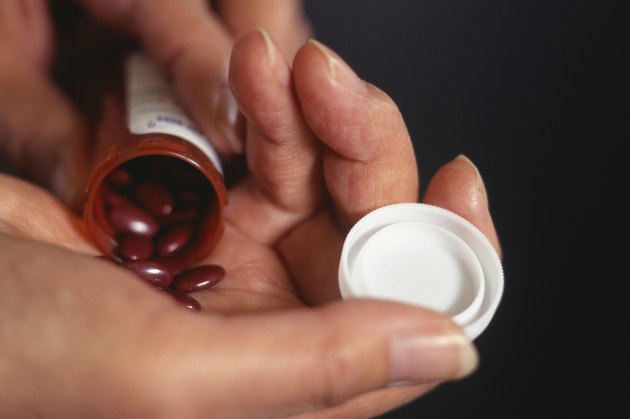 The most common cause of boil infections is the bacterium Staphylococcus aureus. Some Staphylococcus aureus bacteria can be treated with an antibiotic in the penicillin class -- this is known as methicillin-sensitive Staphylococcus aureus, or MSSA. These bacteria are also sensitive to certain nonpenicillin antibiotics. If MSSA is suspected as the cause of a boil, the Infectious Diseases Society recommends treatment with dicloxacillin or cephalexin (Keflex) -- which can be taken by mouth at home. Other options include doxycycline, minocycline, trimethoprim-sulfamethoxazole (Bactrim), or clindamycin (Cleocin). If a person is in the hospital with a severe infection, the society recommends nafcillin, oxacillin or cefazolin -- which are all given intravenously, or through a vein.
Antibiotics to Treat Methicillin-Resistant Staphylococcus Aureus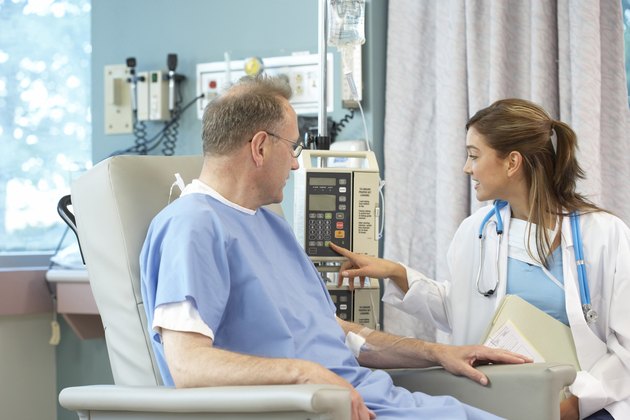 A certain type of Staphylococcus aureus -- known as methicillin-resistant Staphylococcus aureus, or MRSA -- does not respond to treatment with the penicillin class of drugs. An antibiotic that treats MRSA infection is recommended by the Infectious Diseases Society for people with a boil who also have a weak immune system. An antibiotic that treats MRSA is also recommended for people who have symptoms of a whole-body infection, or who still have signs of infection after taking an antibiotic against MSSA. Antibiotics that treat MRSA include trimethoprim-sulfamethoxazole (Bactrim), doxycycline and minocycline, linezolid and clindamycin (Cleocin). For people in the hospital, the society recommends either intravenous vancomycin, daptomycin, linezolid, clindamycin, telavancin or ceftaroline.
When to Seek Medical Attention
It's important to seek medical attention if you develop fever, redness, pain or swelling after incision and drainage of your boil. These could be signs of a worsening infection. If you are prescribed an antibiotic, call your doctor if you have any side effects, like rash or diarrhea, and seek medical attention immediately if you develop signs of an allergic reaction, like throat swelling or difficulty breathing.