Symptoms of lightheadedness and fatigue during a cold are about as common as the cold itself. While some cold-sufferers may experience more coughing and others more sinus pain, it seems that feeling tired and lightheaded are constant features to some degree. Both symptoms are usually transient and dissipate after a few days. The amount of rest and fluid you get when sick with a cold is often a significant determinant of how tired and lightheaded you will feel.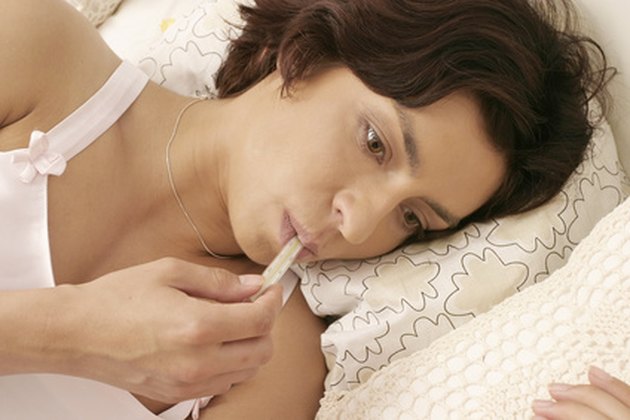 Lightheadedness During a Cold
MedlinePlus, a service of the National Institutes of Health, explains that feelings of lightheadedness are usually a sign that the brain is not getting enough blood. Many conditions can cause this to happen, including fever and infection, which are both typical of a common cold. As the body's defenses are diverted to fighting the illness several processes, including a fever, low blood pressure and dehydration, may precipitate feeling lightheaded. The American heart Association points out that even mild dehydration can cause a drop in blood pressure. The side effect of some cold medicines frequently include dizziness or lightheadedness.
Fatigue During a Cold
Unfortunately, feeling tired or run-down is often a central feature of being sick with a cold. The body's immune response requires energy and the process of fighting infection can leave a person feeling drained. Sleep disturbances due to coughing and other respiratory symptoms can compound feelings of fatigue. Dehydration can have a similar effect. Going to work while sick with a cold can greatly enhance fatigue and sets a person up to feel like she is "running on empty".
What Can Help
Two very effective remedies for alleviating fatigue and lightheadedness brought on by a cold are extra rest and hydration. It may be hard for busy adults to slow down and devote time to self-care, but doing so can pay dividends sooner when the goal is to be well and fully engaged each day. Taking a day or two off to sleep, hydrate and repair is an ideal response. Also, check cold medicine information carefully and heed caution about side effects of dizziness. It is important to rise slowly from sitting or lying down to avoid the sudden change in blood pressure which often precedes feeling lightheaded. Finally, drinking at least eight to 10 8-oz. glasses of fluid each day helps to assure adequate hydration.