Coughing is one of the most common reasons people visit a doctor, according to the University of Maryland Medical Center. A productive cough is one that produces mucus, or phlegm. A continuous, or chronic, productive cough is not normal and may indicate a disorder of the lungs. A cough lasting for more than two weeks should be evaluated by a physician.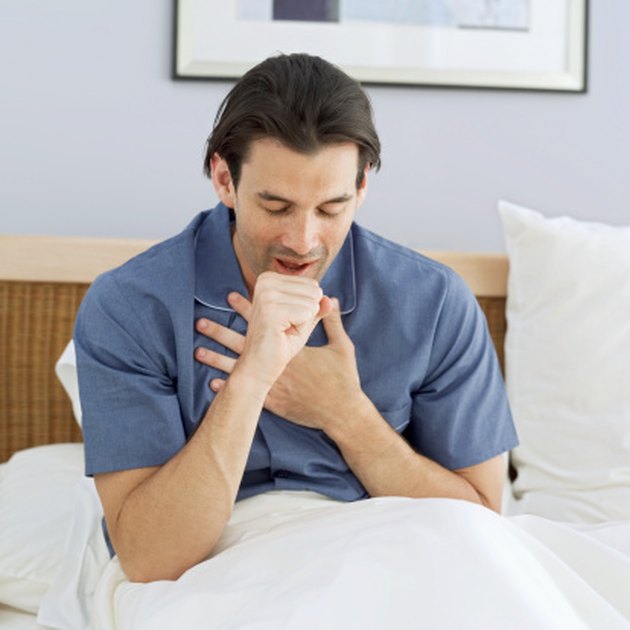 Chronic Bronchitis
Chronic bronchitis is a chronic, progressive and life-threatening lung disease characterized by inflammation and thickening of the airways and excessive mucus production. Chronic bronchitis causes a productive cough and shortness of breath that worsens over time. Smoking causes the majority of cases, according to the American Lung Association. Inhalation of fumes and dust particles, commonly in the workplace, is also a cause. Affected persons frequently also develop emphysema, another serious lung disorder. Quitting smoking is the most important way to prevent worsening lung damage. If found early, symptoms can be effectively managed. Often patients ignore symptoms which delays diagnosis and makes treatment more difficult, the ALA says.
Tuberculosis
Tuberculosis is an infection most frequently affecting the lungs. Productive cough is the most common symptom. When the illness first starts, a cough typically occurs upon awakening and produces small amounts of yellow or green mucus. As the disease progresses, the cough continues throughout the day and produces larger amounts of sputum, which may become bloody. Sufferers of tuberculosis may also experience drenching night sweats, low-grade fever, fatigue, weight loss and loss of appetite. Tuberculosis is treated with multiple-antibiotic therapy over a period of six to nine months, according to Merck Manuals Professional Edition. Sufferers must stay at home or in the hospital for the first two weeks of treatment, cover coughs with tissues to avoid spreading the illness and avoid visitors.
Bronchiectasis
Bronchiectasis is a lung disease characterized by widening and scarring of the large airways caused by recurring infections, inhaling a foreign object, cystic fibrosis or other disorder. Mucus builds up as the lungs gradually lose their ability to remove it. A chronic cough producing large amounts of mucus and lasting for months or years is a sign of bronchiectasis, according to the National Heart, Lung and Blood Institute. Other symptoms include shortness of breath, wheezing, fatigue and chest pain. As the disorder progresses, mucus may become bloody. Treatment focuses on managing symptoms, treating underlying infections, removing mucus and preventing complications. Expectorants, bronchodilators and antibiotics are commonly prescribed. Oxygen therapy is required in some cases. If the disease is isolated to a specific part of one lung, surgical removal may be necessary.
Is This an Emergency?
If you are experiencing serious medical symptoms, seek emergency treatment immediately.