Candida albicans is yeast that grows naturally in a person's digestive tract and in a woman's vagina. Normally, the body keeps the amount of yeast at a minimal level, but conditions such as poor hygiene, antibiotic use and a weakened immune system may cause an overgrowth of candida. This overgrowth, commonly referred to as a yeast infection, may cause symptoms on the skin such as a reddened, inflamed skin rash, infected hair follicles and itching. The rash may occur on any area of skin, such as the face, but prefers warm, moist environments. Treatments options help restore the balance of yeast in the body.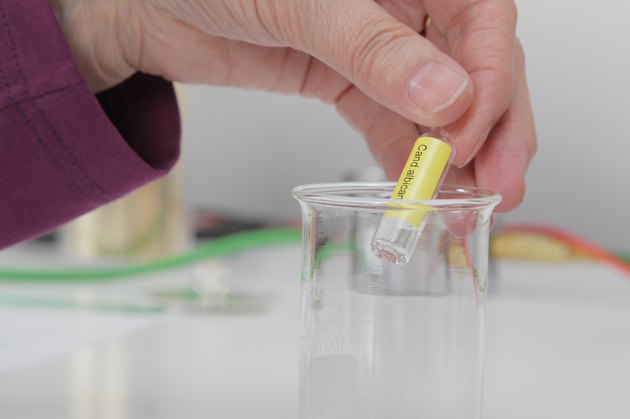 Good Hygiene and Nutrition
To treat a yeast infection on the face, an individual needs to keep the area clean and dry. A yeast rash does not require a bandage and placing one on the rash may increase the symptoms by trapping moisture and encouraging the yeast to spread. Obese individuals have a greater risk for developing a yeast rash. Eating a properly balanced diet can help restore the natural balance of yeast in the body. Individuals with diabetes are also at an increased risk of developing yeast in the mouth and on the face because the yeast feeds off excessive sugar secreted in the saliva. Controlling blood sugar levels may help stop yeast growth, according to MedlinePlus.
Topical Medications
Topical antifungal medication, which are available over-the-counter and marketed as creams to treat athlete's foot or jock itch, may help treat a yeast rash on the face. Common antifungal medications available include clotrimazole, ketoconazole and miconazole. Applying the cream two times each day for 7 to 10 days may help cure the yeast infection, according to the Merck Manuals Online Medical Library Home Edition. Applying a prescription medication, such as nystatin, may also help stop the yeast growth on the face. Using a corticosteroid cream along with the antifungal medication may help treat the itching and inflammation associated with the rash.
Oral Medications and Yogurt
A yeast infection on the face may not respond to topical treatments to completely clear up the rash. A prescription antifungal medication such as fluconazole is available by mouth to treat the condition. Commonly, the medication only requires one dose to treat the infection, according to the National Center for Biotechnology Information. Eating foods with live cultures, such as yogurt, helps restore the balance of yeast on the body.
Is This an Emergency?
If you are experiencing serious medical symptoms, seek emergency treatment immediately.