Humidifiers are used to help ease nasal and chest congestion due to allergies or the common cold, but if not maintained properly, they can lead to health complications, according to MayoClinic.com. Humidifiers create extra moisture in the air and can encourage the growth of mold and mildew. Mold and mildew are visible clusters of fungi that can cause allergic reactions or illness in people, according to the Air-Conditioning and Refrigeration Institute. Talk to a doctor if symptoms develop while using a humidifier.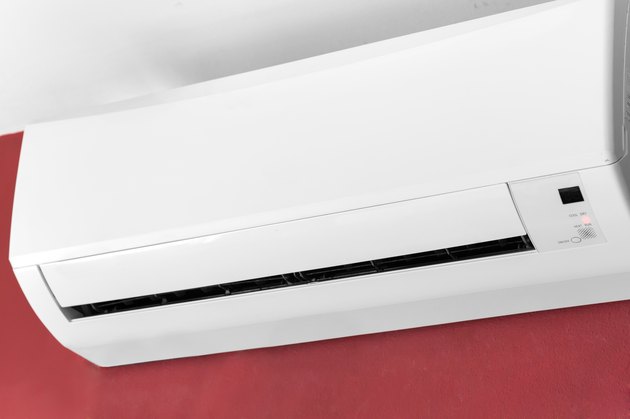 Types
Different types of humidifiers exist. Some are more likely to encourage the growth of mold and mildew. Warm mist humidifiers pose the greatest threat because they combine moisture with warmth. These two elements are the essential ingredients for mold growth. Other humidifiers include cool mist models and vaporizers. Cool humidifiers pose the greatest threat of producing mold within the unit, if not properly maintained, according to MayoClinic.com.
Daily Maintenance
National Jewish Health recommends that a user perform certain daily maintenance procedures to avoid mold growth. Empty the water reservoir and wash it in the sink with hot soapy water, or wash it in a dishwasher. Allow the reservoir to air dry.
Weekly Maintenance
Clean the entire unit on a weekly basis, while in use. Do not clean the machine in the presence of someone with a mold allergy or lung issue. Clean the reservoir with hot soapy water and rinse. National Jewish Health states that the user needs to sanitize the machine using white vinegar or a half bleach, half water solution. Add 2 cups of either solution to the water basin and run the machine for 30 minutes. Place water in the humidifier and run the machine for three minutes. Rinse out the reservoir and allow to air dry.
Humidity Levels
One of the main concerns while running a humidifier is the humidity levels in the home. MayoClinic.com recommends keeping humidity levels between 30 and 50 percent. Measure the humidity in the home using a hygrometer, which you can purchase at a local hardware store.
Warning
Regular use of a humidifier is not recommended for people with allergies to mold or dust mites. A humidifier can encourage the growth of dust mites and mold, according to National Jewish Health, despite potential cleaning efforts. Talk with an allergist before implementing any treatment.