Wounds that cause heavy draining may leave the skin on the outside of the wound wet and cause maceration. Maceration occurs from the skin absorbing too much fluid. Maceration may also occur from putting a dressing on too tightly or from soaking a wound or skin in fluid. Using proper wound management procedures and products will help lower the possibility of maceration. It is important to recognize maceration on the edges of a skin wound because the wound care requires a new plan in order to prevent this complication.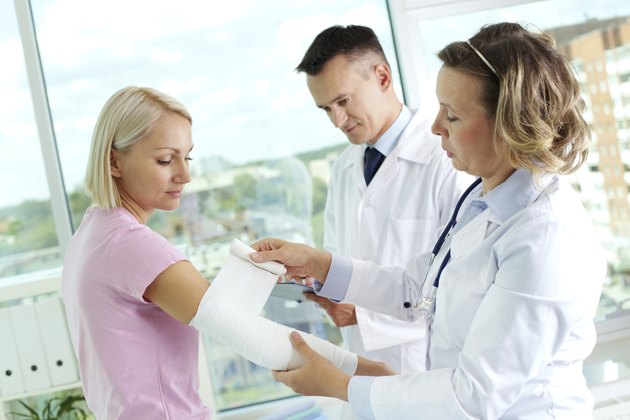 Softened Skin
The skin surrounding the wound becomes softer and soggy because of increased moisture from the wound. Keeping a bandage on a wound may also cause the skin to soften because it prevents air from getting to the wound. Closed wounds, such as early stage pressure ulcers, may experience a softening of the skin from soaking in a tub or from incontinence. Proper dressings and proper technique when performing dressing changes reduces the risk of developing macerated skin at the edge of the wound.
Appearance
Healthy skin has normal flesh color, and a healthy wound bed looks beefy-red. Areas of macerated skin turn a white or grayish color, and usually line the edges of the wound.
Pain
The macerated skin may cause pain because the weakened skin is at an increased risk of injury, and may begin to break down and expose a deeper layer of tissue. Skin breakdown may also increase the risk of developing a painful infection in the wound. Individuals with pressure sores on the sacrum and incontinence may cause pain and damage to the affected skin with vigorous rubbing of the area when bathing or cleaning, according to Nursing Center.
Is This an Emergency?
If you are experiencing serious medical symptoms, seek emergency treatment immediately.