For most people, dandruff is more cosmetic complaint than it is a medical menace. The American Osteopathic College of Dermatology (AOCD) notes that while the build-up of dead skin cells—which eventually slough off and cause the noticeable white flakes on your shoulders—is one factor, a yeast-like fungus, malassezia, that exists on everyone's scalp causes more severe cases of dandruff when it grows out of control. Those with persistent, stubborn cases of fungal dandruff may need to seek the assistance of their doctor, but the Mayo Clinic notes that over-the-counter shampoos may yield the best success when used frequently and appropriately.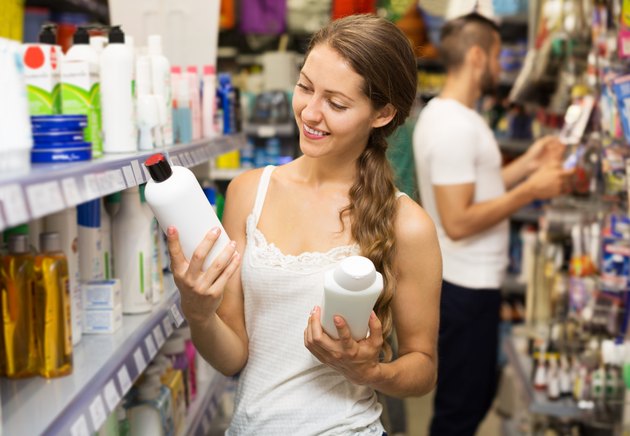 Dandruff Shampoo Choice
Choosing the right over-the-counter product is the first step to resolving fungal dandruff. Dandruff shampoos contain different active ingredients, according to the Mayo Clinic, so you may have to experiment with various products before you find the one that works for you. The University of Michigan Division of Health Services rates dandruff shampoos such as Nizoral that contain the antifungal agent ketoconazole as "most effective" in reducing the number of fungal organisms on the scalp and those that contain selenium sulfide such as Selsun Blue as "moderately effective." The Mayo Clinic lists zinc pyrithione, which is found in Head & Shoulders, as another active ingredient that also acts as an antifungal.
Shampoo Use
The AOCD notes that dandruff and dry scalp are two completely different things, in that those with a dry scalp typically have dry skin all over their body. Fungal dandruff resolves dandruff with more frequent shampooings. The Mayo Clinic advises using a dandruff shampoo daily until flakes subside, then using the product two or three times a week. An antifungal shampoo that worked well at the beginning of your home treatment can eventually lose its effectiveness, so you may have to alternate or switch dandruff shampoos.
Shampooing Techniques
The way you wash your hair is equally as important as frequent shampooings. The University of Michigan advises shampooing and rinsing the hair twice. Massaging the shampoo down to the scalp (without scrubbing it) is key to resolving dandruff. On the second application of the dandruff shampoo, let the product stay in the hair for five minutes before rinsing it out to give the active ingredient time to take effect.
Other Preventive Measures
In addition to frequent shampooings, the Mayo Clinic offers various lifestyle strategies and home remedies to help reduce dandruff. Stress reduction is important, as stress can trigger dandruff or make it worse. Switching to a healthy diet that includes zinc, vitamin B, and omega-3 fatty acids can also reduce dandruff. Spending time outdoors and getting sun on your scalp is also helpful, Mayo Clinic experts note—just don't forget the sunscreen.
See a Doctor
Severe, stubborn cases of dandruff can be the result of seborrheic dermatitis, which not only affects the scalp but the face, chest and back—parts of the body where the skin is particularly oily. While this condition can be controlled with medicated shampoos, the Mayo Clinic suggests that a doctor may wish to prescribe topical topical corticosteroids or antifungal medications, or sometimes both, to treat more resistant cases.