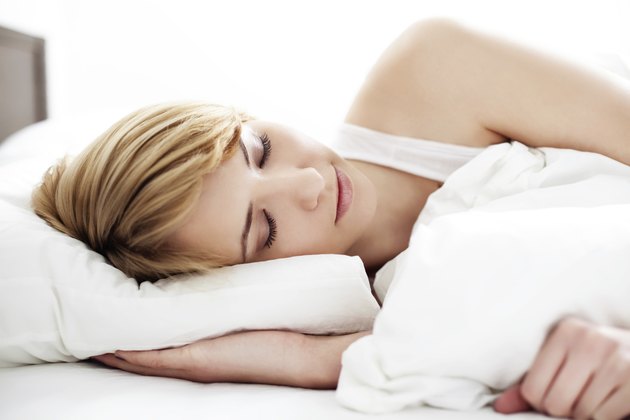 You may prize your beauty sleep as a youth-restoring routine, but if you use the wrong pillow, it could lead to wrinkles and lines. With age, the impressions left by pillows on your face may actually become permanent lines, reports the Vasseur Skincare website. Sleeping on normal pillows can essentially iron the wrinkles into your face, leaving unwanted signs of aging in spite of a full night's sleep. To address this problem, several companies have developed anti-wrinkle pillows, designed to minimize, prevent or even reverse the lines and wrinkles left by normal pillows. Although using an anti-wrinkle pillow may be a valuable addition to your skincare regimen, these pillows are not considered a medical cure for wrinkles.
The Beauty Pillow
Made by Vasseur Skincare, the Beauty Pillow is specifically designed to protect your face against the wear and damage caused by normal pillows. According to the company's website, the Beauty Pillow features a satin pillowcase, and is designed to minimize friction and pull on skin and hair by standard pillows. Its crescent-shaped structure is intended to provide cradling and support for your head, and elevates your head above your main pillow. The company's website reports that this pillow has been recommended by chiropractors and dermatologists. However, it is not considered a cure for wrinkles or any other condition.
Eyetopia Anti-Wrinkle Pillow
Part of the Eyetopia line of products developed by ophthalmic plastic surgeon Cynthia Boxrud, the Eyetopia anti-wrinkle pillow is specially designed for preventing pillow wrinkles in the eye area. According to the company's website, the pillow prevents compression wrinkles by keeping the eye and the orbital area open. The Eyetopia website cites a study in which the Eyetopia Anti-Wrinkle Pillow was tested on 24 women between the ages of 21 and 67. The researchers report that 90 percent of the women had a decrease in their compression wrinkles after using the pillow. This pillow is not considered a cure for wrinkles of any kind.
Save My Face Anti-Wrinkle Pillow
The Save My Face pillow, manufactured by Save My Face, Inc., is designed to suspend your face above your main pillow to protect you from developing lines. The pillow also reportedly helps with nasal air flow, relieves aches and pains, and provides support to the head and neck. According to the company website, this pillow my help with recovery from plastic surgery as well. The pillow comes in two sizes. It is not a medical cure for wrinkles.
Copper Oxide Pillowcase
Another potential anti-wrinkle innovation for sleep is the copper oxide pillowcase. According to Mail Online, this new approach was pioneered by the Cupron Company, a manufacturer of copper medical dressings. After observing how the copper medical dressings appeared to be increasing collagen, the company explored the use of copper in preventing wrinkles and lines. Mail Online cites a four-week clinical trial of the pillowcase, in which 57 volunteers used either an anti-wrinkle pillowcase or a pillow with standard pillowcase. At the conclusion of the trial, the volunteers who used the anti-wrinkle pillowcase were more likely to have a reduction in fine lines and wrinkles, Mail Online reports. Further studies are needed to confirm these results.