Lysine is an essential amino acid that acts as a building block of protein in the body. Lysine is important because it helps the body absorb calcium and builds collagen to promote healthy tissues such as the skin. Foods that provide the essential amino acid include red meat, pork, poultry, eggs, nuts and seeds. A high intake of lysine can develop into high cholesterol and the formation of gallstones. Symptoms include diarrhea and stomach pains.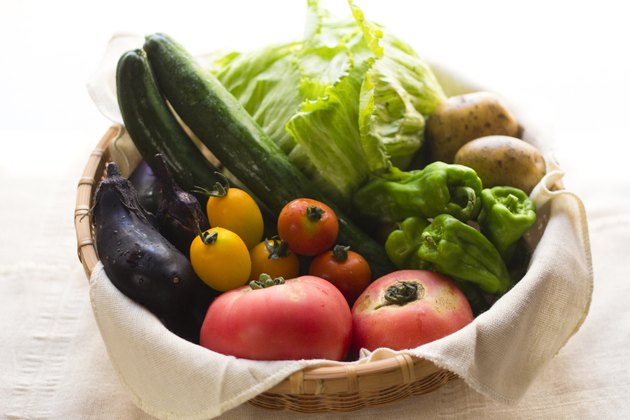 Step 1
Limit the amount of cholesterol in your diet by switching to lean protein sources such as chicken, turkey and legumes. Elevated cholesterol levels contribute to stomach pain.
Step 2
Eliminate saturated fats from your diet that are found in foods containing lysine. Choose sources of monounsaturated and polyunsaturated fats such as olive oil, fish and walnuts.
Step 3
Increase the amount of fiber in your diet by adding more fruits and vegetables. A high-fiber diet improves digestion and can help with abdominal pain.
Step 4
Drink plenty of fluids such as water or juice to eliminate stomach pain. Liquids help eliminate stomach pain associated with too much lysine such as constipation, bloating and gas.
Step 5
Eat more fruit and vegetables that provide vitamin C, which helps lower cholesterol and the risk of stomach pains. Sources of vitamin C include citrus fruits, broccoli, red peppers, strawberries and dark leafy greens.
Things You'll Need
Lean meat

olive oil

walnuts

fish

fruits

vegetables
Warning
Get medical advice from a professional.