Night sweats, also called nocturnal hyperhidrosis, can be a very uncomfortable experience for men. Waking up in the wee hours feeling excessively hot and drenched in sweat, or chilled from the sweat that is beginning to dry, can be disturbing to your sleep, especially if you have to get up to change your nightclothes or bedding. Men and women get night sweats for many of the same reasons -- sleeping in a room that's too hot, medication side effects and hormonal imbalances. The good news is that, according to MayoClinic.com, night sweats in men "typically aren't a sign of a medical problem."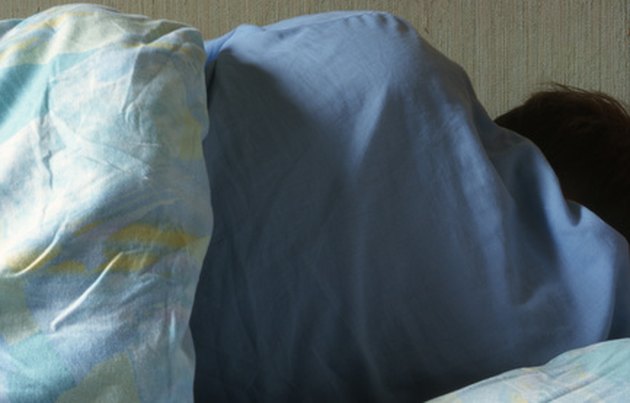 Step 1
Keep your bedroom cool when sleeping by using a fan or leaving a window open. Avoid bundling up before bed even if you feel cool.
Step 2
Sleep in light, breathable clothing and choose bedding made to keep the body cool. The International Hyperhidrosis website recommends bedding made of a polyester material that wicks moisture away from the body. Avoid flannel sheets or any fabric that is dense and heavy.
Step 3
Take a cool shower before bed.
Step 4
Avoid eating spicy foods for dinner, which can raise the body temperature and cause night sweats. Eating before bed and during the night is generally a bad idea for men suffering from night sweats; digestion raises body temperature, which can lead to night sweats. The Sleep Disorders Guide also advises men to avoid acidic foods, like pickles, citrus fruits and tomatoes, and white sugar.
Step 5
Refrain from drinking alcohol or hot beverages before bed, both of which can cause a rise in body temperature.
Step 6
Exercise in the morning or afternoon, but not in the evening. Exercising too close to bedtime can be a cause of night sweats. Sleep Disorders Guide also advises against lovemaking before bed.
Step 7
Check your medications. According to the American Academy of Family Physicians, medications like antipyretics -- salicylates and acetaminophen, for example -- antihypertensives and phenothiazines can cause night sweats in men. Ask your doctor if your night sweats could be a side effect of any medications you are taking.
Warning
Consult your doctor if your night sweats persist to find out if your nocturnal hyperhidrosis is the sign of an underlying illness. Although rare, night sweats may be a sign of infectious disease or cancer.