A parasite is an organism that depends on a living host for its survival. Usually, the parasite derives all the benefit from the infection, to the detriment of the host. Parasitology is the study of this relationship between parasite and host. It became a specialized field of medicine as Westerners traveled to remote areas of the world. Parasites, such as bacteria, fungi, protozoa, helminths (worms) and insects, have caused great suffering and death throughout human history. Travelers to India, especially highly-populated areas, face the risk of malaria, dengue fever, typhoid fever and intestinal parasites. Consult your doctor before traveling to any foreign country.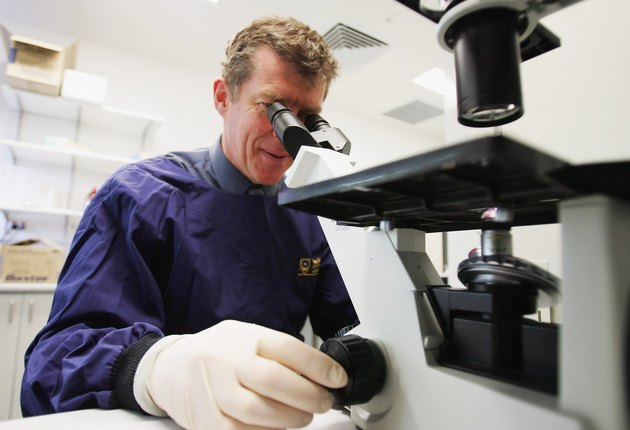 Malaria
Malaria is still a very deadly disease that affects many areas of the world, including India. Malaria is spread by parasite-carrying mosquitoes. Malaria causes fever, chills, sweats, headache, body ache, nausea, vomiting and fatigue. Symptoms typically appear seven to nine days after infection. One particularly bad malarial species, known as Plasmodium falciparum, can cause kidney failure, coma and death quickly. People traveling to India should consult their doctor and consider an anti-malaria drug treatment.
Dengue Fever
Dengue fever is an epidemic in Southeast Asia. The virus that causes dengue fever is also transmitted by mosquitoes. Symptoms can include fever lasting two to seven days, hemorraghing, vascular leakage and/or very low blood pressure. The only ways to reduce your chances of getting dengue fever in India are wearing clothing to prevent mosquito bites and using mosquito netting at night. There is currently no vaccine or drug available to prevent infection.
Typhoid Fever
Like malaria, typhoid fever is still a major concern in many parts of the world. Typhoid is transmitted by humans in the form of a bacterium known as Salmonella enterica. Fecal contamination of food and/or water is the most common cause of typhoid infections. The risk of getting it in South Asia is much greater than other regions of the world, according to the Centers for Disease Control and Prevention. The risk of typhoid also increases with the duration of your stay in India. A vaccination is recommended before you travel there.
Intestinal Parasites
Intestinal parasites are a definite concern for those traveling to India. Parasites can include protozoa and helminth species. Intestinal protozoa can be contracted anywhere food or water is subject to contamination by animal or human waste. Protozoa have an outer membrane or cyst that helps them survive as they travel into the digestive tract. One species of protozoa, known as Entamoeba histolytica, causes dysentery, which is characterized by diarrhea, vomiting and weakness. Giardia lamblia is another species that can infect people who drink untreated water. Helminth are worm-like organisms that include nematodes, cestodes and trematodes. The common names for these are roundworms, tapeworms and flukes. Ascaris lumbricoides is a species of roundworm that can grow as big as 15 inches inside the small intestine. Tapeworms also live in the intestines. Though they rarely cause death, intestinal parasites can cause infection and severe discomfort if not treated immediately.